We may earn money or products from the companies mentioned or linked to in this post, including Amazon Affiliate links.
Did you know the average woman puts 12 personal care products containing, on average, 168 chemicals on their body A DAY? Ewwww, no thank you! Are you starting to think about all the "things" that are in your makeup? Does it have nasty toxins in it? Is it actually good for your skin? As we all become more and more aware of what it is in the products we put on our bodies it makes sense to start looking for the best non-toxic makeup. I happen to love Savvy Minerals by Young Living and here is why: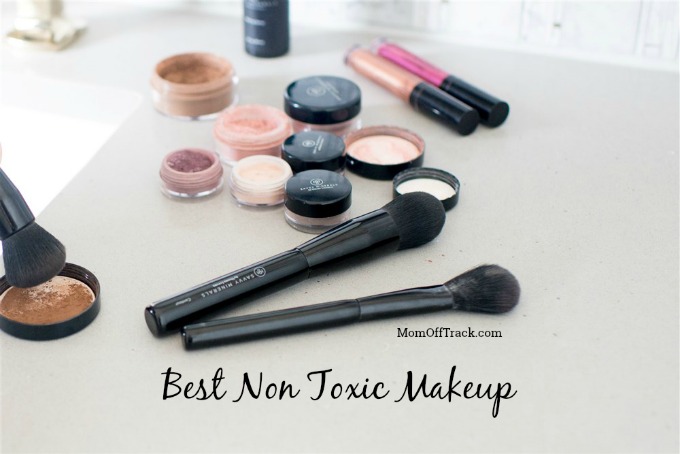 In YL Savvy Minerals, there are:
NO PETROCHEMICALS
NO TALC
NO PARABENS
NO PHTHALATES
YL Savvy Minerals products also contain:
No gluten
No nano-particles
No metals
No synthetic dyes
No synthetic fragrances
No bismuth – a popular filler found in makeup that causes skin irritation.
But here is what IS in Savvy Minerals: 
Young Living Essential Oils
Aspen Bark Extract has skin-softening properties and acts as a natural preservative. Bye Bye nasty parabens.
Kaolin clay, which sucks out impurities such as grime, dirt, pollution, and germs from the pores. Hello, clear skin!
Mica is completely safe and gives pure pigment color to your Savvy makeup.
High-quality minerals
Non-nano ingredients
Let's Talk About the BEST  Non-Toxic Makeup Option:
SO, let me tell you about the Savvy Minerals Foundation: 
Foundation is the base of your makeup. Savvy Minerals colors are forgiving. I actually mix Warm 2 and Warm 3 for my perfect match. Having both lets me create custom blends for summer or winter. I use the Warm 1 for concealer and straight Warm 3 for Contour. Everything is so versatile. This mineral foundation goes on as a powder but stays all day. Here is how you know if you are a warm or a cool:
Non Toxic Eyeshadow: 
Savvy Minerals eyeshadow is buildable, allowing you to control how subtle or dark you want it. The Savvy Minerals Premium Starter Kit comes with 3 eyeshadow shades to compliment your foundation color. Each kit contains Best Kept Secret which makes a great base.
If you like pressed eyeshadow powders like I do, they also have pallets available.
Non-Toxic Lipsticks and Lipgloss
I absolutely love the lipgloss. It has a bit of peppermint essential oil in it which feels great and helps plumps the lips. It's not at all sticky and it glides on so nicely. Not a gloss girl? There are plenty of colors of lipstick available as well. Savvy minerals makeup line is never tested on animals and does not contain beeswax.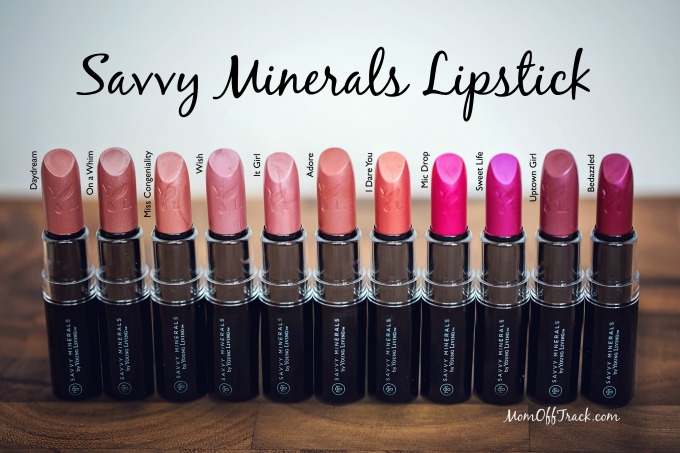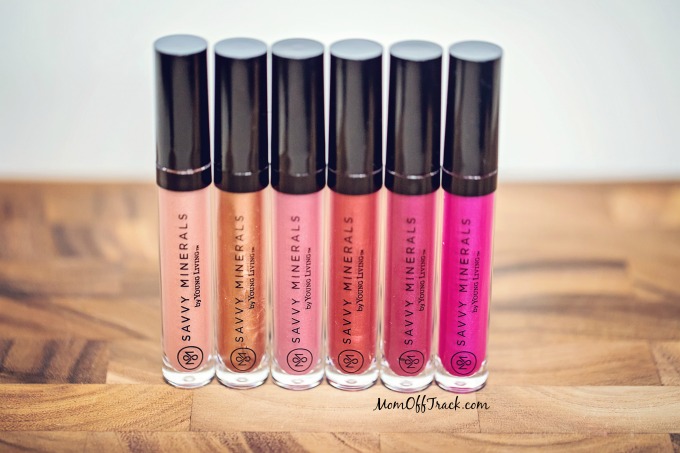 Are You Ready To BLUSH without toxins? 
The Savvy Minerals blush is, also, buildable letting you create that blushing bride look or a heavy rosy glow. It's up to you. Here are a few of the choices: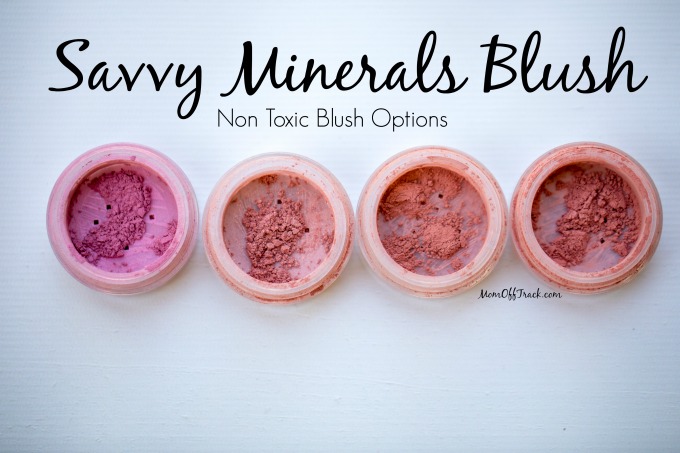 All the BRUSHES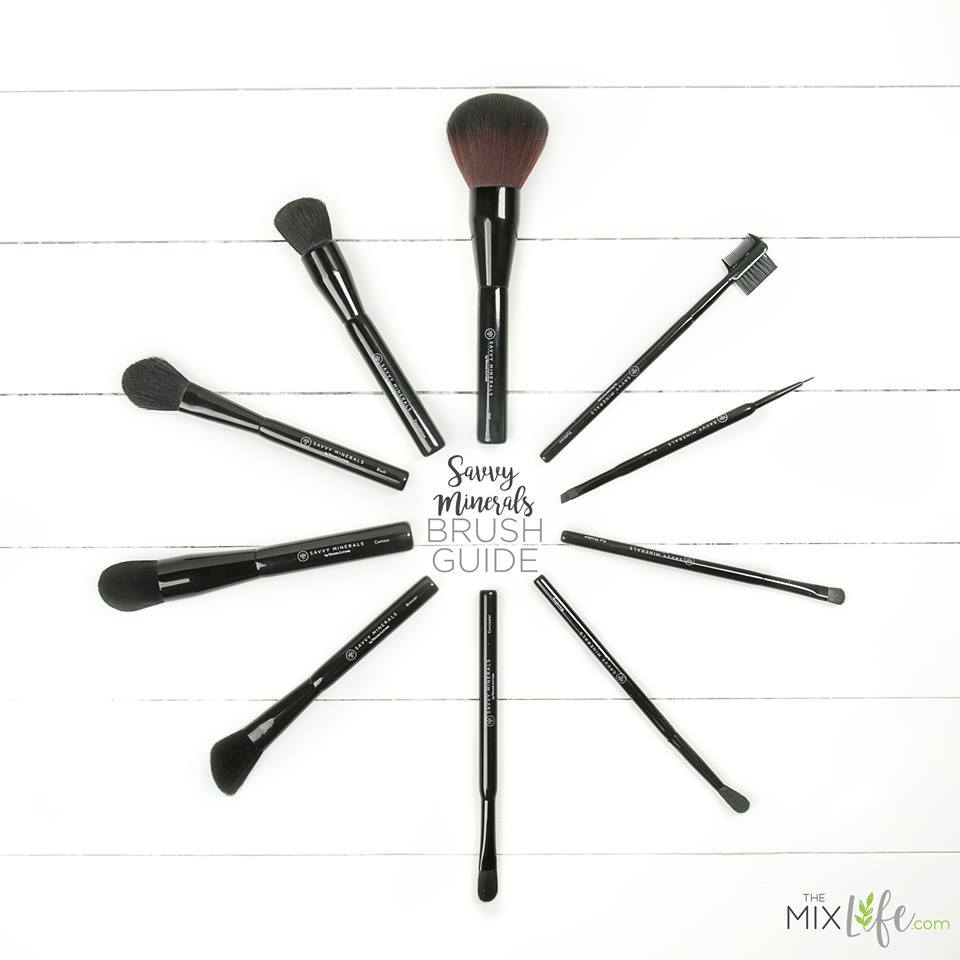 Oh my! I never realized what a difference really NICE brushes make. They are especially important in applying mineral based makeup. I have the brush kit plus the new Kabuki brush and I love it. I use the brush kit case as my main makeup bag as everything fits in the middle pouch that I need.
The Savvy brushes are:
Made in Italy from high-quality hypoallergenic synthetic fibers.
Designed to hold the optimal amount of product and provide easy makeup application and provide a luxurious feel.
Easy-to-clean bristles that dry quickly.
Dermatologist tested.
Vegan friendly.
How to pick out your Non-Toxic Makeup Savvy Minerals Premium Starter Kit
Now that you know you are on board with changing to an amazing non-toxic makeup line, let's figure out which kit you need.
Take a look at the four foundation options to decide which color will work best for you. Remember, you can always add another shade, lighter or darker, to blend to get your perfect color. Trust me, it doesn't take a makeup artist to blend these beautiful colors.
All Savvy Minerals Premium Starter Kits include: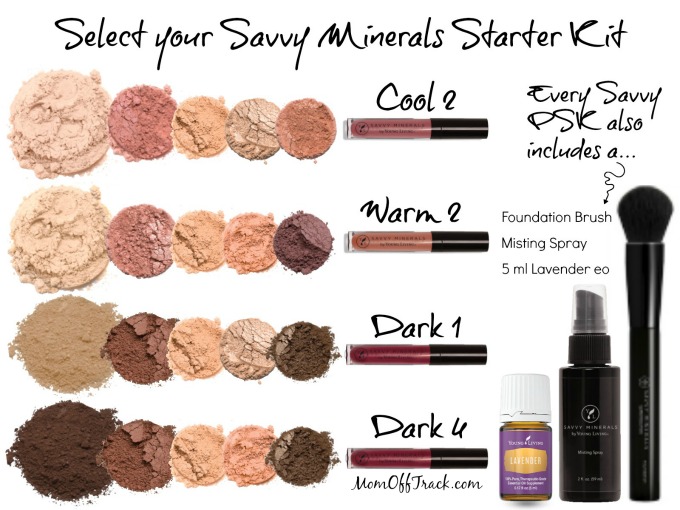 Here is a great video to help you get started with color matching your new non-toxic makeup if you still aren't sure which is best for you
Savvy PSK (Premium Starter Kit) OPTION 1 item #23830
Foundation- Cool 2
Blush- Smashing
Eyeshadow- Best Kept Secret – Residual – Crushin'
Lipgloss- Abundant
Foundation brush
Misting Spray
5ml Lavender essential oil
Savvy PSK OPTION 2 item #23834 
Foundation- Warm 2
Blush- I do Believe You're Blushin'
Eyeshadow- Best Kept Secret – Spoiled- Unscripted
Lipgloss- Embrace
Foundation brush
Misting Spray
5ml Lavender essential oil
Savvy PSK OPTION 3 item #23832 
Foundation- Dark 1
Blush- Passionate
Eyeshadow- Best Kept Secret – Residual – Determined
Lipgloss- Maven
Foundation brush
Misting Spray5ml Lavender essential oil
Savvy PSK OPTION 4 item #23833
Foundation- Dark 4
Blush- Passionate
Eyeshadow- Best Kept Secret – Spoiled – Determined
Lipgloss- Maven
Foundation brush
Misting Spray
5ml Lavender essential oil
Do you want to see EVERYTHING in the Savvy Minerals Collection? Take a look at 2018 Savvy Minerals Lookbook
OK, lets get started on your new Non-Toxic Makeup look: 
STEP 1:
FIRST CLICK HERE TO BECOME A MEMBER WITH ME AS YOUR ENROLLER! I will be there to offer support and education as you take on ridding your life of toxins one at a time.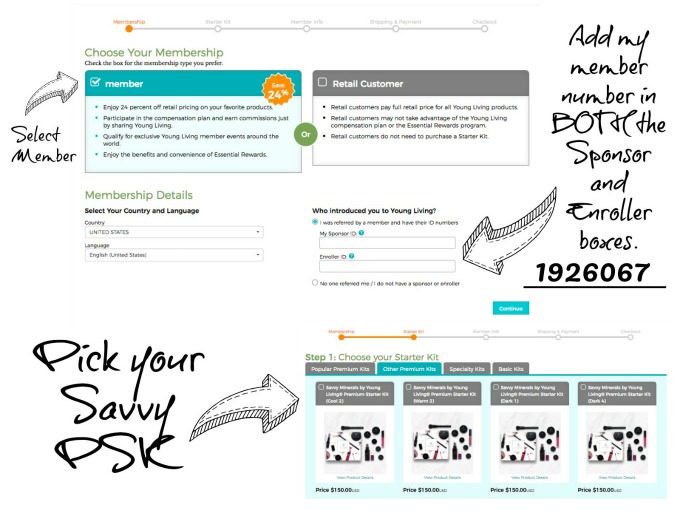 Add your extras onto Essential Rewards
Step 2: You don't HAVE to sign up for Essential Rewards but I think you would be a fool not to. The Savvy PSK has an amazing selection of products perfect to get you started, but I want to help you get a few other favorites on the Essential Rewards program to help you maximize rewards and to build an amazing skincare and makeup arsenal.
Young Living skincare line is infused with beneficial essential oils along with safe, effective ingredients. The ART system is perfect for every woman. The Satin Mint Facial Scrub is gentle and refreshing and the Renewal Serum helps create a smooth flawless surface for your Savvy makeup without clogging pores.
Broaden your Savvy collection with a Jet-setter eyeliner, bronzer, multitasker to fill in brows or cover gray hairs, and the Veil diamond dust to absorb oils left on your skin and create a natural glow.
RECOMMENDED ESSENTIAL REWARDS BUNDLES 
MONTH 1 
New ART skin care system – $113 PV (This includes a Gentle Cleanser, Toner, and Light moisturizer.)
Combine your Savvy PSK with your Essential Rewards purchase and qualify for the 100 PV and 190 PV promotions. Membership sign-up is the only time a PSK can be combined with an ER order in the same purchase and receive ER points on the entire PV total.
(PSK = 100 PV + 113 PV = 213 PV Qualifies you for the 190 PV promotions–see below graphic for all the freebies you would earn)
MONTH 2 
Renewal Serum – $77 PV
Bronzer – $27.75 PV
(104.75 PV – Qualifies for the 100 PV ER promo-see below graphic for all the freebies you would earn)
MONTH 3
Satin mint facial scrub – $16.75 PV
Veil Diamond dust – $45 PV
Eyeliner – Jet Setter – $15.75 PV
MultiTasker – $20.75 PV
Lip balm – $4.25 PV
(102.50 PV – Qualifies for the 100 PV ER promo -see below graphic for all the freebies you would earn)
ALL THE FREE STUFF FROM YOUNG LIVING!
So what ARE the monthly Promotions? They change each month but here is a look at the October 2018 Young Living Freebies!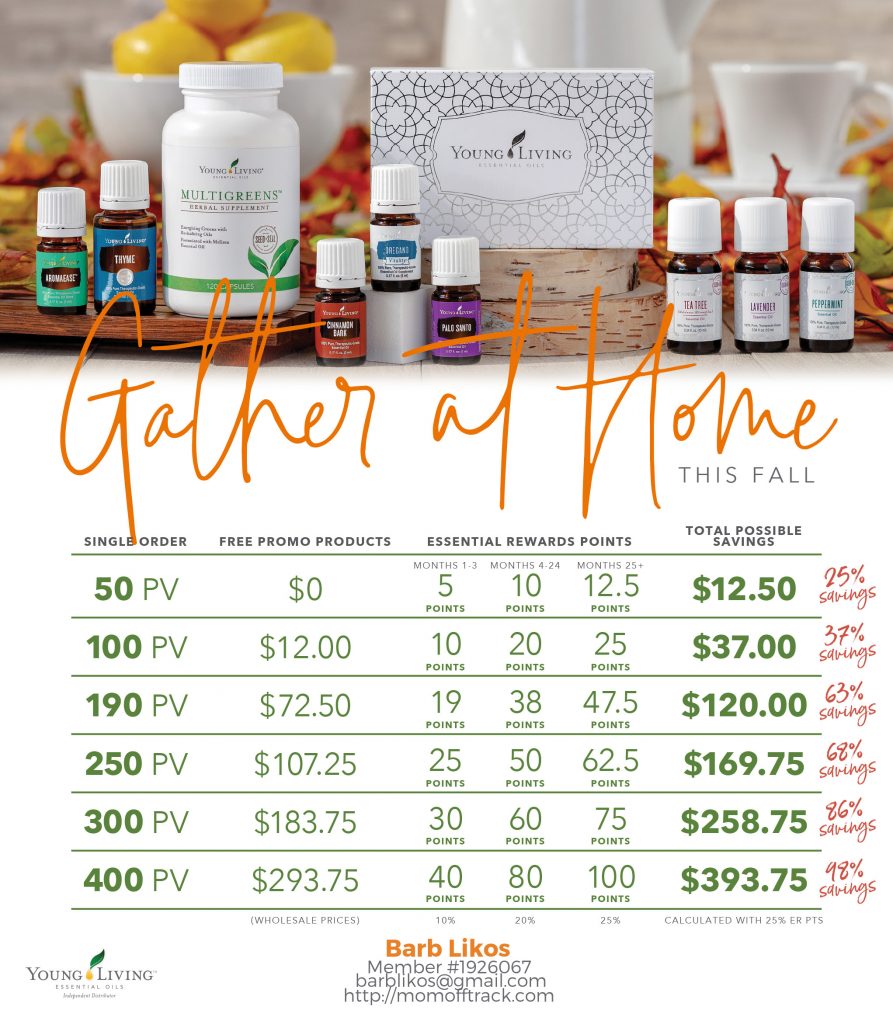 I just know you will love your new Savvy Minerals Non-Toxic Makeup and I will be here for you every step of the way! Now, what are you waiting for?