Progression to Snowmama: How Adaptive Skiing Changed Our Family
My progression to becoming a snow loving mom started when a friend suggested we try adaptive skiing at the National Sports Center for the Disabled in Winter Park, CO. My younger son Carter is a full time wheel chair user.
Continue Reading about Adaptive Skiing
Wheelchair Accessibility at Gorgoza Park: Update
Posted on March 24, 2011
On our family trip to Park City Mountain Resort last December, we headed up to Gorgoza Park to do some family sledding. Ever since its inception, Gorgoza Park has been able to accommodate disabled persons in its tubing operation.
Continue Reading About Gorgoza Park Accessibility
Fun on Park City's Main Street
Posted on February 23, 2011 The slopes aren't the only place to have a blast at Park City Mountain Resort. For me, the shops surrounding historic Main Street are a full day's adventure.
Read more about Park City's Main Street
Make Your Phone Work For You When You're Traveling
Posted on February 9, 2011 Let's face it…most of us live and die by our cell phones. I love my iPhone4 for keeping me organized and entertained. The following iPhone apps make traveling more efficient and enjoyable. Read More
5 Tips for Your Family Ski Vacaton to the Rockies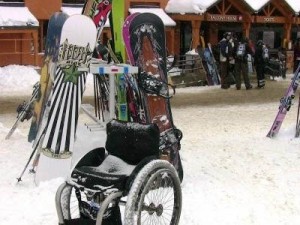 Wednesday, October 20, 2010
Snow is starting to appear on the caps of the Rocky Mountains making most of us in Denver start to envision swooshing down the slopes soon. From blind skiers, sit skiers, the beyond-cool teen, the anxious toddler and the cocoa sipping grandma the ski resorts in the Rocky Mountains accommodate everyone. Wheelchair skiers are a common site on the slopes and you should be warned they are in some cases the fastest and most skilled up there.
Read More
Where to Stock Up On Groceries in Park City
Posted on February 8, 2011 Staying in any of the luxurious condos or homes surrounding Park City Mountain Resort makes meals quicker and more affordable. But, there is nothing worse than schlepping your family through the airports and car rentals just to answer the "Are we there yet?" question with "As soon as we stop at the grocery store!" Read More
Park City Mountain Resort Getaway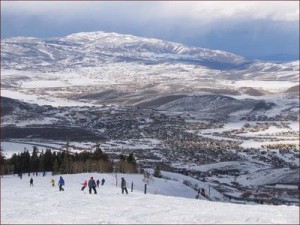 Thursday, December 16, 2010
This past weekend I had the opportunity to get away and enjoy some much needed girl time at
Park City Mountain Resort
for the Snowmama Summit. I was immediately impressed with the large variety of things to do and am excited to bring my family back this coming weekend. Here are my suggestions for getting the most out of a family vacation to Park City Mountain Resort.
Read More
Tips for First Timers to Park City
Posted on January 4, 2011 If you're coming to Park City for the first time, here are some tips from my recent visit with my family, including a wheelchair user, that might make it easier for you. Read More
Barb's Trip Diary: Day Five
Posted on December 30, 2010 I took some time to reflect on the highs and the lows of our trip. The highs far outweighed the lows and we moms know that is the best that can happen on a family vacation. Meltdowns and disappointments are inevitable even with the best laid plans. Read More
Barb's Trip Diary: Day Four
Posted on December 27, 2010 In the past three days, the week before Christmas, 51 inches of snow has fallen at Park City Mountain Resort. Today, we could finally get out and enjoy ourselves. Read More
Barb's Trip Diary: Day Three
Posted on December 26, 2010 One thing I would wish for Christmas? Just one family vacation where someone didn't have a major meltdown. Today was my husband, Bob's turn. Read More
Barb's Trip Diary: Day Two
Posted on December 22, 2010 Today was the perfect family day! It is snowing hard here in Park City and I am happy for it. Read More
Inclusive Winter Vacation? Does This Really Exist?
Posted on December 22, 2010 There are many resorts across the country that do adaptive ski and do it well. And while most adaptive ski programs do offer other summer and winter activities, the National Ability Center, working in tandem with Park City Mountain Resort has the ability to offer these activities in one place, bringing a valuable convenience to families looking to take advantage of a 'destination vacation'. Read More
Barb's Trip Diary: Day One
Posted on December 21, 2010 Trip Diaries allow you to follow our Snowmamas through the ups and downs of their family vacations at Park City Mountain Resort. Tag along with Barb and her family on day one of their vacation. Read More