We may earn money or products from the companies mentioned or linked to in this post, including Amazon Affiliate links.
I recently returned from a 14 day British Isles itinerary on the Norwegian Pearl cruise ship. We choose this ship due to the itinerary which was one of the few things we ended up happy with. Although we personally had a wonderful time visiting all these ports this is the first cruise ship I have left in a very long time without purchasing a future booking and have made a point to tell people I absolutely do not recommend sailing with Norwegian Cruise Line when asked about our trip.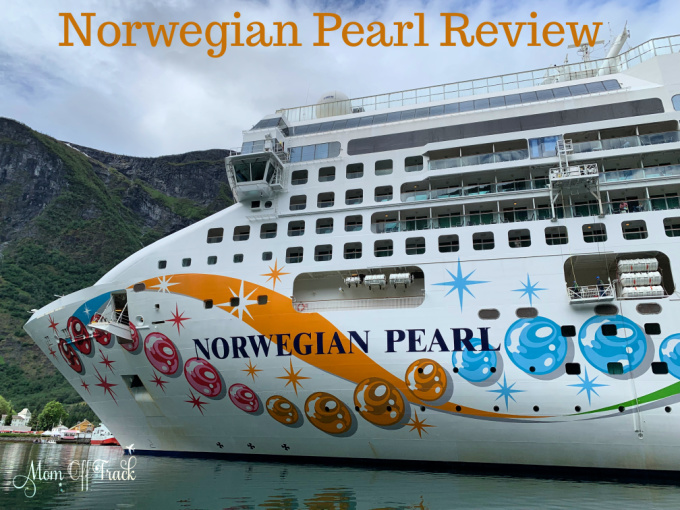 Norwegian Pearl June 8, 2019 Itinerary:
3 stops in the Norwegian Fjords (Flam, Geiranger, Haugesund)
Edinburgh
Scottish Highlands (Inverness)
Dublin
Belfast
Paris (Le Havre)
London
Brugge
Amsterdam
Norwegian Pearl Massive Price Drop
We booked initially in December of 2018 a mini-suite for my son and I. Two weeks after final payment the price on our trip dropped by more than 60%. I was offered a $250 on board credit as a consolation to the almost $7000 drop. Not ever cruising NCL prior I was baffled. I have never seen a cruise line struggle to fill cabins to the extent they created such a massive drop. That should have been our first clue! Since NCL was of very little help I took matters into my own hands and used our "Cancel for any reason" clause in our private insurance (never ever buy cruise line insurance) and rebooked the cruise with two balcony cabins (one each) and paid less than my initial booking.
Greeted With a Filthy Room on Norwegian Pearl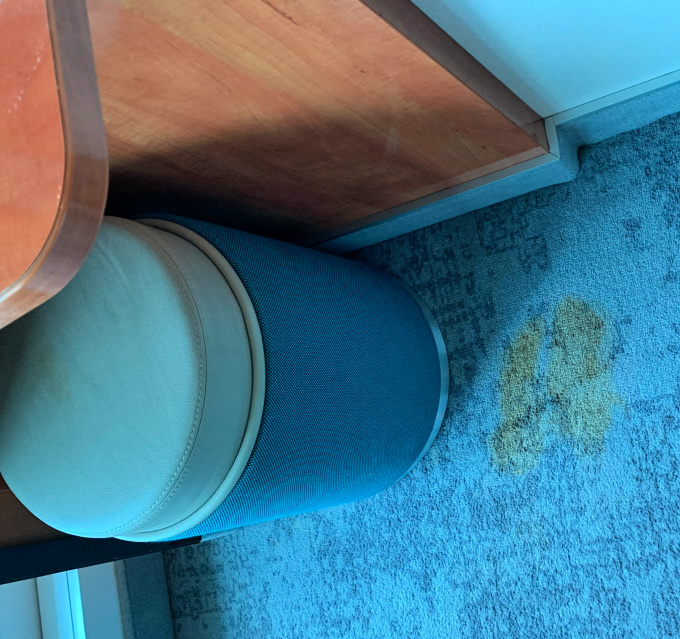 We boarded the ship in Amsterdam and there was a fairly big wet brown stain on my carpet that the room steward tried to cover with the ottoman. The sheets were stained in three places and the mirror had two large handprints in the middle of it. The couch even had a stain on the seat. After calling housekeeping the sheets were replaced and the mirror cleaned.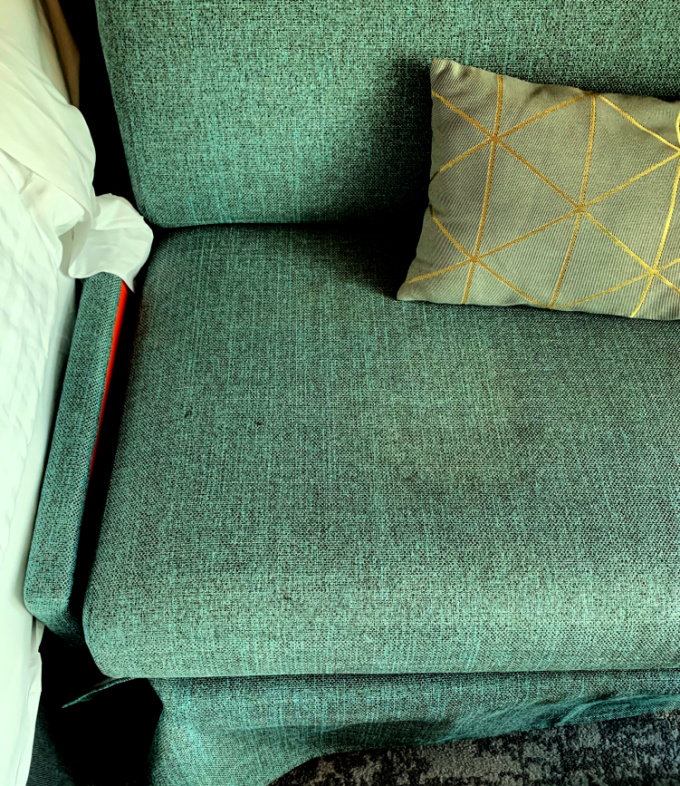 Housekeeping and front desk told me they would replace the carpet in two days. Three days later they finally did cut out a square and put in a new one. Nothing was ever done about the couch.
Not So Fine Dining on Norwegian Pearl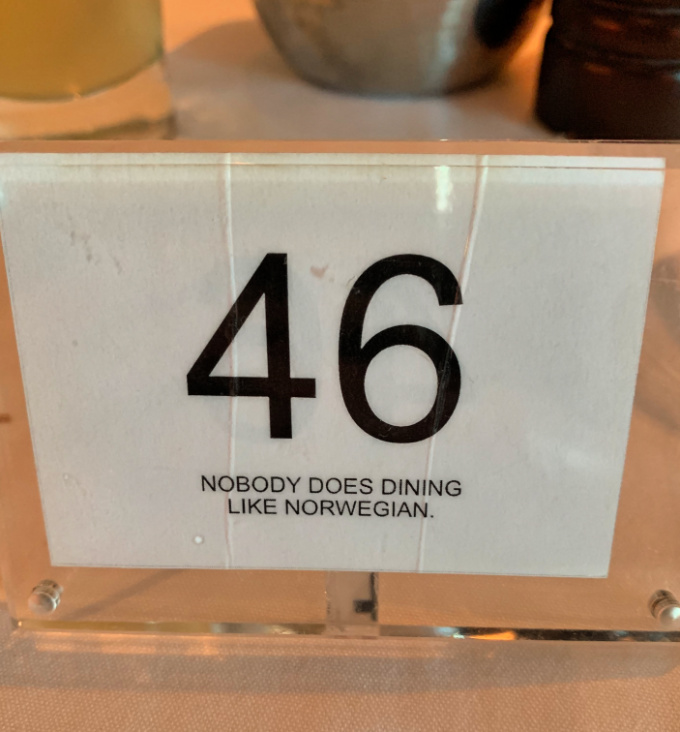 Norwegian Cruise Lines does something called "freestyle dining". This means you choose where you would like to eat each night. On the plus side it provides lots of casual choices, on the negative, you don't establish a relationship with your waiters… something we love about Disney, Royal Caribbean and Celebrity.
For this booking, one of the "perks" was a 5 Specialty Restaurant Dining package for each passenger. That meant of the 14 nights we were able to eat in the up-charge restaurants 5 nights for "no charge". We went to La Cucina, their Italian offering, on the first night and were told my sons dining and drink packages were never paid for. They were part of our fare and I had the receipt with detailed booking confirmations. Even though NCL gives them to you for "free" you still have to pay a service charge (beverage charge was $277.20 and dining was $21.80 per person) for these perks. They refused to acknowledge the receipt I had with me saying they had to make contact with the mainland. For 5 days they could apparently not make contact with the mainland and it took me having to have my husband call from the US to Orlando to have this fixed. It was their mistake. They somehow dropped it from his booking. No apologies from anyone. No response to date to the 3 emails I sent our "personal cruise consultant" either. They told us to charge his drinks and dinners to his onboard account while they worked it out. This resulted in us having to call numerous times closer to the end of the cruise to have these charges reversed. All totaled we spent hours of frustration on this mistake of theirs. I am POSITIVE upon showing Disney a receipt I would have been met with, "I'll fix this right now".
La Cucina was a huge disappointment and we barely ate our food. When the waiter picked up our plates he asked how it was and we said "honestly, not very good". He then proceeded to say OK and took our food away…never once asking how he could fix it. I'll admit that taste in food is subjective so I will just post two pictures of a meal we had at Indigo one night. The orzo dish had shaved iceberg as garnish and mushy baby scallops I didn't touch. I wish I had a picture of the corned beef and cabbage from O'Sheehans. The waiter warned me not to order it and he was right. It was a soup I couldn't even imagine the prisoners in the Tower of London eating.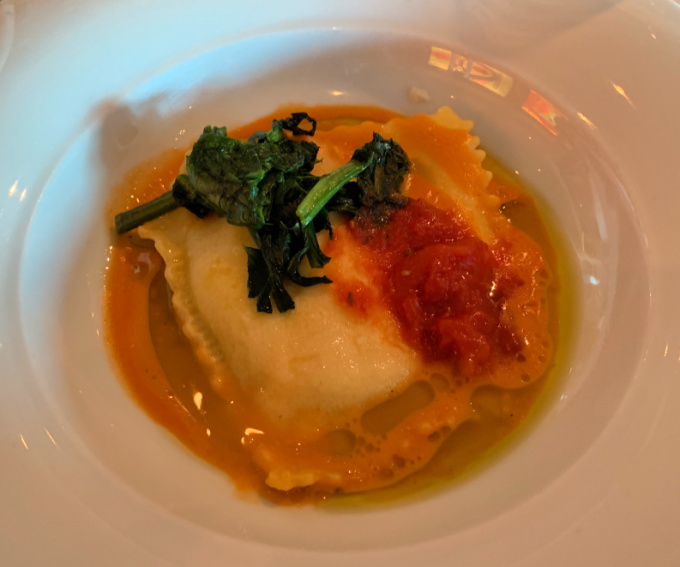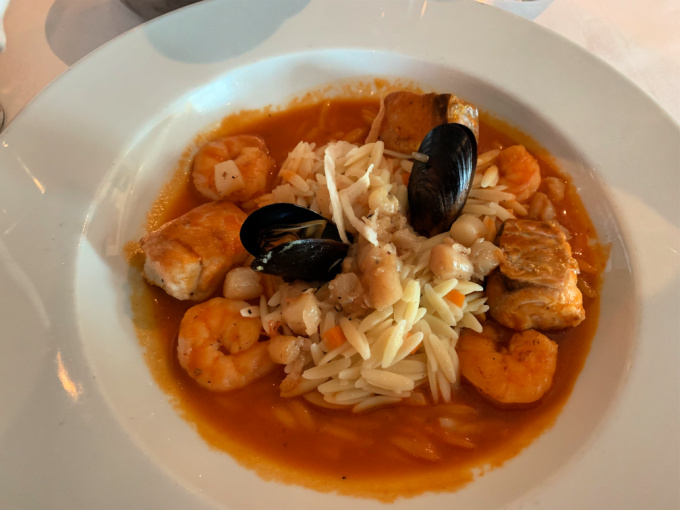 If you do sail Norwegian and have a dining package Cagney's, Le Bistro and Teppanyaki were all good. In fact, I would just get a package and rotate between the three.
On one of our At Sea days I attended a presentation on how a cruise ship functions. An audience member asked why Norwegian Cruise Line no longer serves lobster. I honestly had to stifle a laugh when the Food and Beverage director actually said "We prefer to leave the lobster in the sea where they belong. All the other cruise lines serving four ounce rubbery tails to their guests are performing a disservice and we refuse to compromise." Funny enough, cod was served all over the ship which is historically overfished. Nice try NCL, just admit you do food as cheaply as possible and move on.
That seemed to be the theme throughout the cruise-we had exactly 4 crew members on the cruise that made our trip enjoyable and I will make a point to send a card to NCL about them because the rest of the crew just did not seem to care about anything.
Disappointing Excursions on Norwegian Pearl
Their excursions are marked up beyond belief. We just were flabbergasted that they charged $199 for a Flam railroad ticket when you can walk right off the ship and take 50 steps to the ticket counter (or better yet book ahead of time) for less than 1/2 of that! We paid roughly $69 for the tickets ahead of time. High excursion markups are standard in the cruise line industry and why I am a huge proponent of booking your own plans either directly or using Viator but this just seemed above and beyond what I have seen on other lines. It went right along with how at every turn we felt nickled and dimed on NCL.
The only NCL excursion we did was Paris on Your Own. Our 6 hours in Paris was reduced to 2 1/2. No apologies. They really didn't care. They left over an hour after the ship cleared for no apparent reason and made us get back to the bus at least an hour before necessary.
The ship itself is in good condition and we did enjoy and make use of the thermal suite everyday. It was too cold for the pool but I saw a few brave souls attempt the jacuzzis.
The Mojito Bar is a bright spot. If you dare to cruise with them head there and hang out with Roberto and drown your sorrows that you didn't pick a better cruise line for this amazing British Isles itinerary.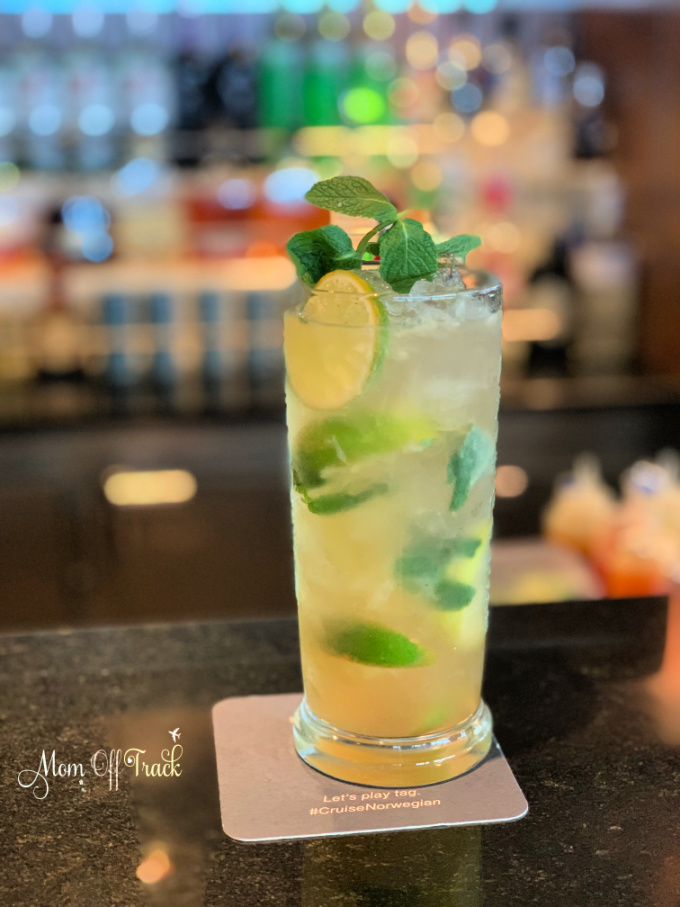 The most fitting end to the cruise? The last night the sliding door in the shower fell off! I was done!