We may earn money or products from the companies mentioned or linked to in this post, including Amazon Affiliate links.
We have owned Leonbergers for quite some time now and just recently brought our newest Leo puppy into the home, making this our 3rd. This started a brand new search for all the new best puppy toys for giant breeds – and more! Whether you are a previous owner, or are new to giant breeds, you undoubtably know their needs are very different from other dogs. These guys grow so quickly and toys, bedding, leashes, bowls, etc are expensive! You want things that are going to last at least a few months. But that is so hard to do when you bring your adorable 20 lb 8 week old pup home and in less than 2 months they more than double in size. Yes, it is completely normal to have a giant breed weigh in at 40 pounds at 15/16 weeks!
So, after careful research and using these items in our home, here is what is Peyton (our newest pup) tested and approved for the first few months and beyond.
Best Puppy Toys for Giant Breeds
(The following are affiliate links)
Everyone knows that dogs love Bully Sticks. We have purchased the Cadet Brand from Costco for years based on numerous breeder recommendations. They are basically doggy crack. But did you know what a huge choking risk they are? That last little bit can get lodged in your dogs throat or can cause issues in their digestive tract when swallowed whole. For Peyton we decided to use a Bully Stick holder. Full discloser on this…we actually bought two. A large for our full grown Leo and a medium for the puppy. The medium has been perfect, she has not been able to free the stick from the toy and it has held up really well. The large went right back as our 6 1/2 year old Leonberger had the stick out in seconds. Peyton loves this toy with and without a bully stick.
Kong is a leader here….
Kong is a leader in the best toys for giant breeds for a reason. Their stuff holds up to the test of time. I was worried some of these "puppy" toys might be too small but at 4 months they are still appropriate for her mouth size and puppy teeth and are showing very little wear and tear. I can see her using these for at least a few more weeks. I usually just put a tiny bit of all natural peanut butter in the Kong to stuff them instead of using the spray stuff they sell.
Make Your Puppy Work For It…
Puppies eat a LOT and the best puppy toys for giant breeds keep your puppies mind busy and stomach from growling (or bloating). These interactive toys are perfect…Our breeder highly recommended the first one but Peyton loves them both equally. She didn't have much interest in these until about 3 months but now they are absolutely her favorite and will work well into adulthood. Our older girl occasionally gives them a chew and they work well for her too.
Keep the toys coming…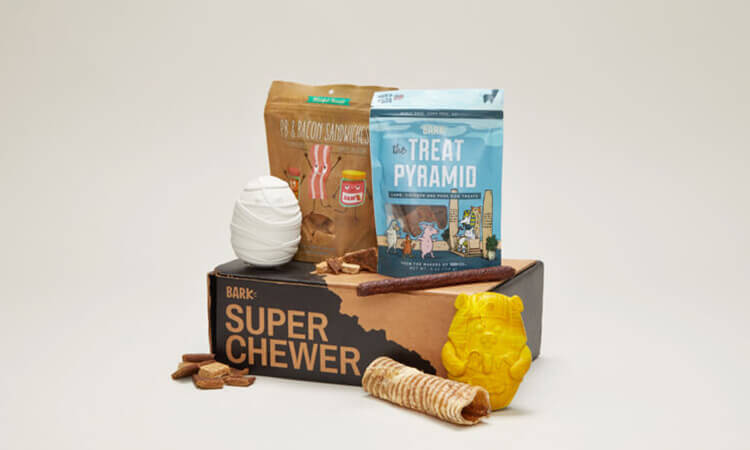 In addition to the fun toys I found on my own, last month we invested in a Super Chewer subscription from Bark Box. Peyton (and Sophie) LOVE the treats and I love that they are healthier, one to two ingredient options I can't find anywhere else. Start with the medium sized toys and work your way up to the larger ones. It's so fun to get a new themed box each month and I look forward to it as much as they do. Their customer service has been wonderful as well.
Some other puppy supplies you may want to consider…
This faux fur PupRug bed is a little big for her right now but I love that it is waterproof, washable and will be the right size for her in adulthood. We have two now!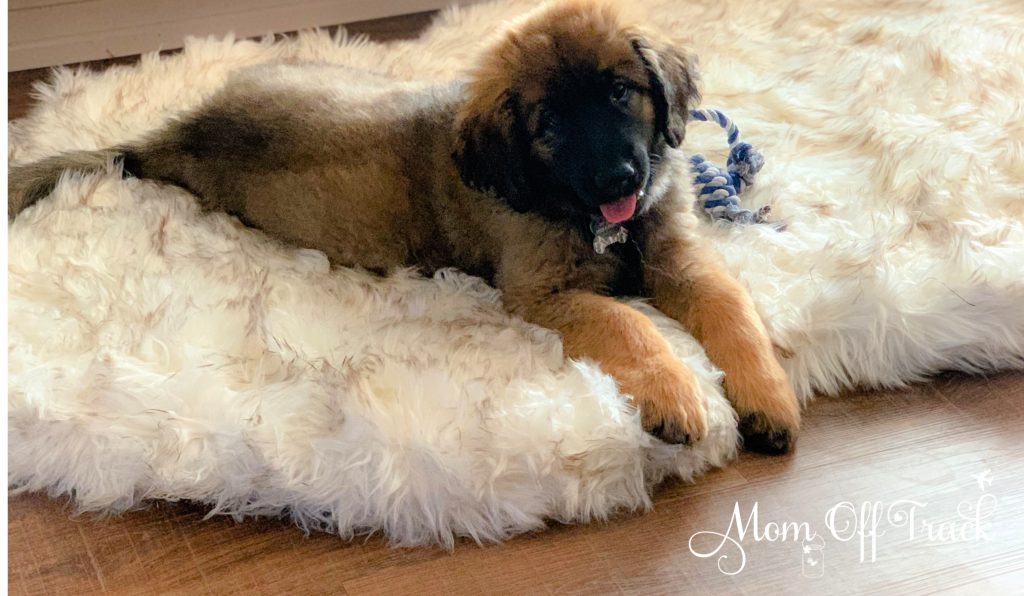 And don't forget to crate train. These Midwest double door XL crates with dividers have lasted through several Leo's. They are a crucial investment.
But this time I found these AWESOME washable mats for inside the crate that saved my sanity the first few weeks. I actually bought 4 so I wasn't running the washing machine 24/7. The 40*26 fits the bottom of the XL crate perfectly.
Bloat can be a real issue for giant breeds that gulp their food. Slow down meal time and give them some extra mental exercise with this fun puzzle feeder.
I hope this post helps you and your giant breed puppy get off to a great start. Enjoy! They sure aren't little long!