We may earn money or products from the companies mentioned or linked to in this post, including Amazon Affiliate links.
We made the decision not to travel far this summer due to the surgery Carter needed to have. It was, obviously, the right decision and things going forward are going to be so much better for him and us as a family. But it's depressing giving up your summer to a hospital. It's also one of the first summers in a long time we haven't made it to California. To me, summer IS California.
As a kid I would pack up and head to northern California to spend time each summer with my cousins in Marin County. My cousin Jenny and I would visit Santa Cruz to Fisherman's Wharf. Float down the Russian River and catch tadpoles at Lake Elizabeth. I'd spend a few days touring the big city (San Francisco) with my Uncles Guy and Stan and always always had to ride the trolleys and go to Ghiradelli Square.
As I got older, summers meant Southern California beaches-La Jolla and Mission Beach seemed to be the two hot spots our friends split their time between as we were all what is unaffectionately called "zonies"-people from AZ that take over So. Cal in the summer.
I think Bob and I are maybe 17 in this picture taken in La Jolla.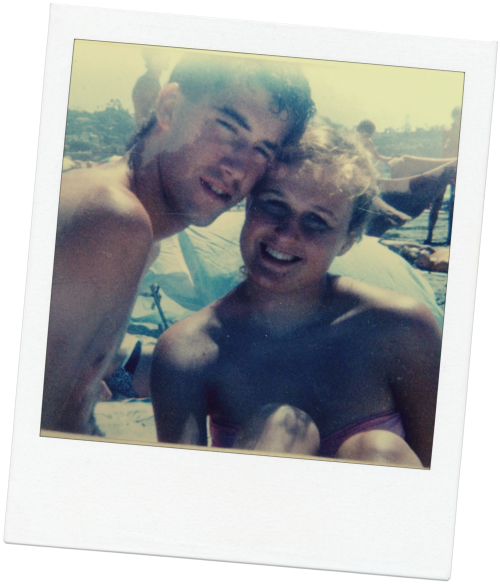 As we got a bit older we would do silly things like fly to San Diego to catch the fireworks at Sea World for the day. On one of those trips Bob won me this giant Shamu we flew home with us.
We got married and honeymooned in Del Mar. We drove over on the weekends to watch the sunsets and eat on the beach in our little Mustang.
The kids came along and we faithfully trekked them to the beaches and amusement parks. With both boys always being "sand babies" as Grandma called them. Kids who loved the beach and hated the ocean water. We tried to rent a condo each summer for at least a week with Carlsbad always being our favorite area.
The way Bob drove it only took us a few hours to get from Vegas to LA. We bought annual passes to Disneyland and made thousands of family memories as we logged thousands of miles roadtripping back and forth to CA.  We would meet family on some occasions, and others we would go by ourselves. Here Carter gets a helping hand walking from my parents through LegoLand.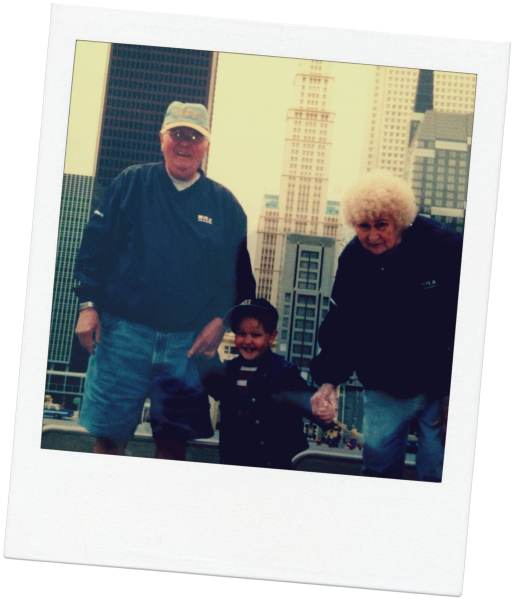 It's been harder since we moved to Denver to just jump over to CA but we have managed a few times for Disneyland and last summer to Coronado with our family. I still really need to take them to Northern California this year before Connor heads off to college. I want to tour San Francisco with them and take advantage of having a designated driver in Napa at least one time in my life.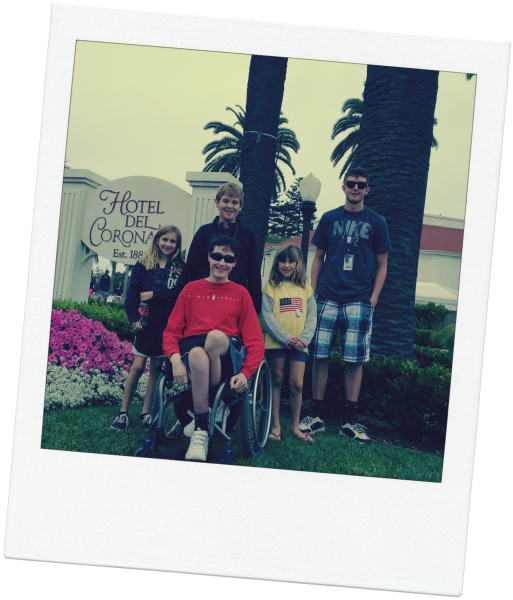 From Cornado to the Redwoods and every place in between California memories shape who we are as a family. It's our comfort place. No matter where in CA we go, we know it will always be a place we will leave a bit of our heart. As they grow from teens to adulthood I hope the boys have  fabulous memories of California and share them with their families as they create many more. My heart will always be there with them somewhere on a Californian vacation dream.
I want to thank Visit California and Traveling Mom for sponsoring my trip down memory lane.  I will be hanging out with them on twitter next Monday night chatting about California and I hope you join in. All the information can be Found here for how you can participate: http://bit.ly/11Umfvc.  Both of the websites linked have great info for helping you plan your vacation to California so get packing and send me some pics!