We may earn money or products from the companies mentioned or linked to in this post, including Amazon Affiliate links.

What could be better than an easy caramel sauce poured over semi-sweet chocolate chips and an oatmeal-brown sugar crust? Topping it with an oatmeal crumble, of course! If you haven't had the pure joy of trying one yet, get ready because this super easy Carmelita Bars dessert is about to be on your way to your tummy!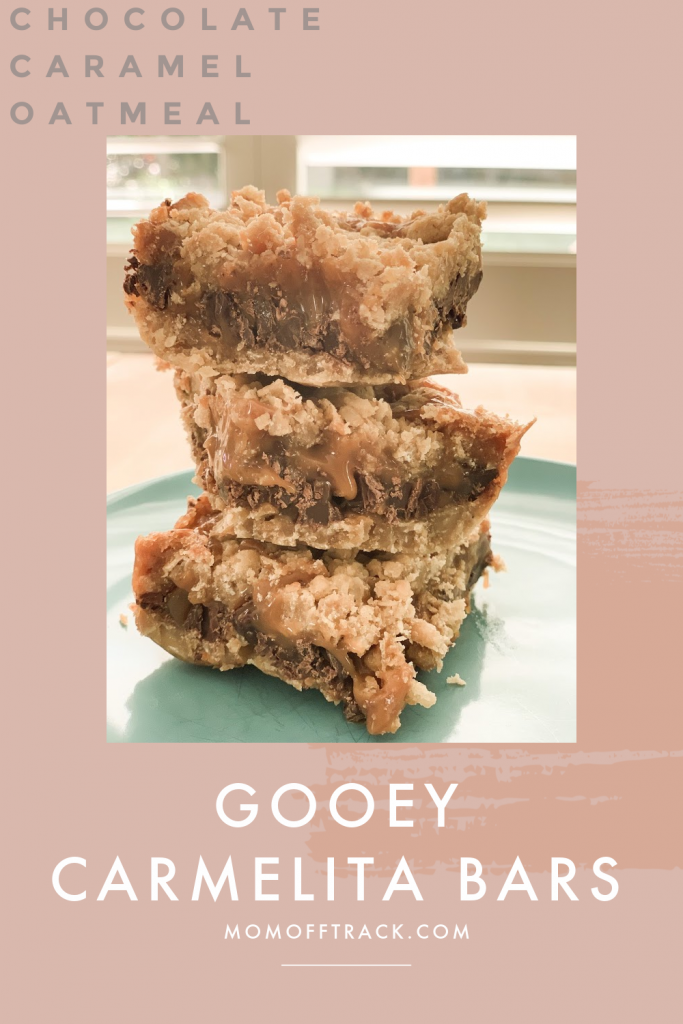 Gooey Carmelita Bars
Super easy Carmelita Bars recipe feature chocolate, caramel sauce and oatmeal-brown sugar crust and crumble. This recipe makes good use of the microwave and product shortcuts to save you time!
Ingredients
Caramel Sauce Layer
1

11 oz bag

Kraft Caramel Bits

if you want to you can unwrap about 35 caramel squares instead

1/2

cup

heavy cream

1

pinch

salt

to taste
Instructions
To Begin:
Preheat oven to 350 degrees F. You can also convect bake this at 325 degrees F. Grease a 8×8 pan with butter or a spray like Pams Baking Spray. I personally like a glass pan for this. Set pan aside and make the crust.
Prepare the Crust:
Add the brown sugar and vanilla and mix until smooth with a fork or whisk.

Add the flour, oats, baking soda, salt, and stir until combined.

Divide mixture in half and spread into bottom of prepared pan using the back of a spatula. Leave the remaining half for the crumble.

Bake for 10 mins. Let's make the caramel sauce while that bakes!
Caramel Sauce
In another large microwave-safe mixing bowl combine the caramel bits and cream.

Microwave on high power for one minute at a time, stirring after each min. Mine took 4 mins to completely melt. Add the salt and stir really well.
Put It All Together!
After 10 mins remove the semi baked crust from the oven and layer the chocolate chips over it evenly.

Pour the caramel sauce over the chocolate chips evenly.

With your fingers, crumble the remaining oatmeal crust over the top of the caramel sauce layer.

Return pan to oven and bake for another 16-18 mins. Mine were done at 18. You want the caramel to be bubbly.

Let cool for at least 4 hours. If you try to cut into it any sooner the caramel will ooze all over the place. I let it cool and put it in the fridge overnight. Make sure to let come back to room temp before serving if you do that so it cuts easily for you.
Nutrition
Calories:
293
kcal
Carbohydrates:
39
g
Protein:
4
g
Fat:
13
g
Saturated Fat:
8
g
Cholesterol:
17
mg
Sodium:
124
mg
Potassium:
209
mg
Fiber:
3
g
Sugar:
23
g
Vitamin A:
182
IU
Calcium:
54
mg
Iron:
2
mg
I originally learned how to make these from Averie Cooks and adapted them based on what was easiest for me. I am not about to sit and unwrap caramels but she has a great video that will help you catch on if you need a little extra help.