We may earn money or products from the companies mentioned or linked to in this post, including Amazon Affiliate links.
Before I left for the media preview Fantasy Cruise last month, I did some price comparison. While my husband, oldest and I have all cruised multiple times, I have yet to take our youngest. And I feel really badly about that. But to be honest with both the wheelchair and autism hurdles to overcome with him, I just have never been quite sure how he would do. Since he is such a Disney fan I always thought that his first cruise would probably work best on a Disney ship. Every time I went to book one though two things stopped me: the price and the fact that they always seemed sold out of the itineraries we wanted.
Disney cruises aren't cheap. Comparing the cost between two fictitious similar itineraries to Mexico, Princess Cruises were close to $3000 less than the Disney counterpart & 3 days longer.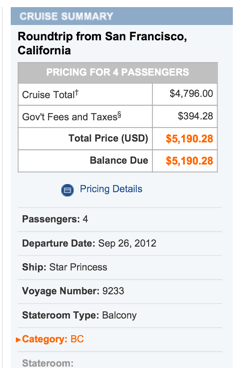 ;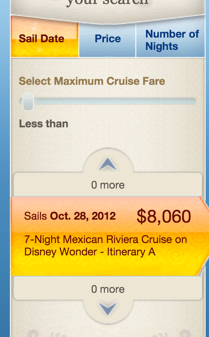 Which is the point where I would take my hand off the 'book' button and walk away, dazed and confused to exactly why I thought that sailing on a Disney ship was going to be so much better.
I'll be honest. I posed this question to several friends that had cruised Disney before. They all assured me that once I was on board I would see why they are almost always booked and why people were willing to pay so much more.
Fast forward to my cruise. I landed in Orlando and had the option to make my luggage magically appear in my room at the Animal Kingdom Lodge. Flying in from Denver pretty much necessitates an overnight stay somewhere in FL before cruising from Port Canaveral. The next morning, I again had the luxurious option of having my bags magically appear in my stateroom on board as I was transported to the port. Score 1 for Disney magic.

The check in process was flawless. Which has not always been the case on other cruise lines. Another point. We were on the ship as quick as you can say Tinkerbell. There was no mass crowding to get on board and the Disney crew announces each new group by name as they board.
The lunch buffet prepared in Cabana's was the perfect place to get a bite to eat, get oriented and meet up with all my friends sailing with me.
I went back to my room to change into the bathing suit I had in my day bag and found my luggage already at the room. My deluxe stateroom with verandah was beautiful. We were only the second group to sail out on the Fantasy so everything was new and beautiful! I was thinking though how my tall teen boys would do in this room and my 6'8″ husband would feel about that Queen sized bed (which turned out to be SO comfortable just for me). Comfortable, deluxe bed is another big plus but no doubt, 4 people (all adult sized) would be cramped in here.
While the group of friends I traveled with did not bring their families on this preview cruise, many others did and what I was constantly struck by was how often I did not see kids! You would have thought the ship would be crawling with lots of loud kids enjoying Disney. But the adult areas are well defined and while the kids are off having their fun, parents had plenty of time to be in the adult areas. Parents on board told me they barely had seen their children. Disney does onboard what it is best known for-it entertains little ones! Which give parents plenty of worry free time alone. Another huge score for the well defined, adults only areas to relax.
Cruise ship food can be a great place to taste mediocre food. Not on the Disney Fantasy. Each night dinner was a well coordinated ordeal. The lobsters were huge, the desserts fabulous and the staff attentive. Every dining opportunity was used as a chance to entertain and the fun in Animators Palace is not to be missed by kids or adults.
Some other nice touches that scored big points with me:
Fireworks. Disney is the only line allowed to shoot fireworks off the ship. One night, the Dream passed us and we stopped as they shot off a whole fireworks show for us, and we returned the favor by doing the same for them. It was a fun night and was interesting to see all the other cruise lines in the area pull in close enough to get a glimpse at the shooting sister ships.
The nightclub areas for adults had amazing themes such as London Tubes, Irish Pubs, and a Skyline that constantly changed scenery.
Soda is free and is easy to get. All of the food on board was above what I expected to find and allergy options were clearly marked
Another reason to choose a Disney Cruise is picking an itinerary that includes a day on Castaway Cay, their private island, which in fact feels much more like your very own private island. There was much to do and see on this Island but I enjoyed heading out to the adult beach and ordering an adult beverage, sinking my lawn chair in the ocean and relaxing away the day. It was just what I needed. Or maybe he was just what I needed…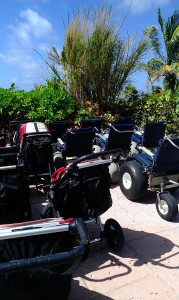 I was very pleased to see the large amount of sand wheelchairs available on Castaway Cay. I was disappointed in that this style would force an independent chair user to rely on someone else to push.
All in all I had a wonderful time on this brand new, beautiful cruise but sadly cannot say whether or not the extra cost would be worth this for a special needs family. I would need of see how they deal with kids with autism, how things like toileting are handled in the children's programs. I would like to know how many child's crew members can sign and how they deal with 'runners'. Mainly I would like to see how inclusive their amazing programming is. That would determine if I could really recommend a Disney Cruise to special needs families. As it is now, I see how a typical family with kids under 12 could justify that all the Disney magic really is worth the extra money.
Here is hoping to another chance to bring Carter and really get the chance to see how this works for families like ours!