We may earn money or products from the companies mentioned or linked to in this post, including Amazon Affiliate links.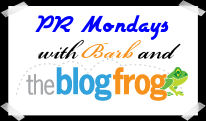 I know I promised you great advice from my blogging buds this month but I am going to break from that schedule due to some computer issues I have been having this past week.Last week, my real life friend, Lori, held her first blog giveaway. She had lots of questions and I think that makes a great topic for PR Mondays.Giveaways, hmmmm, lots to say. First off, I almost always charge to run a giveaway these days. Do a few and realize how much time they take and you will too. BUT, when you are first starting out your blog (or you are having a particularly slow month) running a giveaway at no charge can be a real benefit to you and your loyal readers.There are two (at least) schools of thought on giveaways: keep them on the DL so that your loyal readers benefit only or go all out and use them to help promote your blog. I understand the point of few of both camps and have been in one or the other at various times but I am going to talk today about running a giveaway as a way to promo your blog.So, if you are growing your blog and currently do reviews for free, you may want to consider running  a few well placed giveaway. If you are doing a review for something cool, just ask the PR rep to provide one as a giveaway. It is rare they say no.I usually run a giveaway by first talking about the product (review) and then let my readers know I have one to giveaway. I ask readers to leave a comment for their initial entry. The comment question usually has something to do with the product (how you would use it, why you want it, visit the brands site and tell me what you learned are all ideas for the initial comment). Next, I offer 'additional' entries and here is the part where I get to use the giveaway to build my blog. It gives entrants extra chances to win. Common extra entry chances are:
subscribe to my feed
follow me on twitter
tweet about the giveaway with my link
add my link to giveaway linkys
I used to ask people to facebook, stumble or digg the post but that is against their terms of service and can get you and your site banned now. Anne-Marie wrote a great article on the Facebook changes.  Each extra entry needs to be in a separate comment to count. Looking at how this benefits me, the readers are promoting my blog, upping my feed and comment counts. All of these things allow me to better pitch my blog for future pr opps.Before you post make sure you add the word "giveaway" in your title and tag it as well. Once my giveaway is running, I promote it on twitter and by adding my link to all the various giveaway linkys out there. I have a linky post that you are welcome to use any time. There is also an amazing list on MommySnacks site. People looking to enter giveaways check these lists often. Great, free link promo for you! Yee haw!I usually let giveaways run for 1 week. I choose an end time that works for me and usually announce the winner within that week. In order to pick a winner I go to random.org and use the random number generator on the right side. If you have 100 comments you would put 1 in the top field and 100 in the bottom. Click 'generate'. That is the comment number that wins. This is where having a theme or plugin that numbers your comments rock. I don't have this so I have to do it the old fashioned way, count. I always screen shot the generated number page so that I have proof in case someone claims foul play (yes, people can get really emotional about some giveaways so protect yourself).Announce your winner (if you want) or just contact them. State in your rules that they have a certain time to claim. I give 72 hours. Get their mailing address and pass on to the PR rep. Oh, did I forget to say that I ask all my pr reps to fulfill the mailing??? Postage can get really expensive. Leave this cost to them whenever possible. They don't usually care because they would have to mail it to you anyway so most are more than happy to just mail to the winner.The others, I just don't work with.Post rules. Here are my generic ones:
NO PURCHASE NECESSARYPromotion is open to U.S. residents 18 years of age or older as of  (date of giveaway) except employees and their immediate families of Chaotic Communications, LLC (my company) .Void where prohibited. All federal, state and local laws apply. All taxes are the sole responsibility of winners.Sponsor is not responsible  for any technical problems, malfunctions of any telephone lines, computer systems, servers, providers, hardware/software, lost or unavailable network connections or failed, incomplete, garbled or delayed computer transmission or any combination thereof. If, in the Judging Agency's opinion, there is any suspected or actual evidence of tampering with any portion of the sweepstakes, or if technical difficulties compromise the integrity of the sweepstakes, the Judging Agency reserve the right to modify the sweepstakes in a manner deemed appropriate by the Judging Agency, in its sole discretion. By participating in this promotion, entrants agree to be bound by the Official Rules and the decisions of the Judging Agency.JUDGING: Chaotic Communications, LLC ("Judging Agency") will choose a winner based on a random drawing of all qualifying comments.   Agency reserves the right to disqualify any entry that, in the sole opinion of the judges, refers, depicts or in any way reflects negatively upon the sponsor, the promotion or any other person or entity.SPONSOR: (name sponsor)
What advice do you have for a new blogger hosting their first giveaway?