We may earn money or products from the companies mentioned or linked to in this post, including Amazon Affiliate links.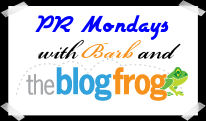 Can you believe that it has been a whole month of PR Mondays already? In January we concentrated on getting your ways to get exposure to your blog and we have one more awesome article for you on that from Holly. I have been busy interviewing PR reps for major companies and for the rest of Feb I will share their thoughts directly with you. If you missed any of the Jan posts make sure to go back and get your blog ready!
By Holly Hamann, 1.30.2010holly@theblogfrog.comWhat is BlogFrog and how did it all start?Every wonder how BlogFrog got its start?  I'm delighted to be guest blogging for Barb and I thought I'd share a little bit of background on what BlogFrog is and how it all got started.BlogFrog is the brainchild of Rustin Banks, who developed the beta product in 2008 during nights and weekends while still a full-time engineer at a local Aerospace company.  Banks said he got the idea from his wife, a casual blogger who used her blog to keep their friends and family updated.  There was no simple way for blog authors to have real discussions with readers and interact on their blogs. "A blog might have thousands of like-minded readers but what if I want to ask another reader a question or share my own blog content?" he used to ask his wife, Tara.
Rusty recruited me to help build the company and launch the service to the blogosphere. In early 2009, we both quit our jobs to run BlogFrog full-time.  Within months, BlogFrog's social widgets had struck a chord with mom bloggers, who have become the company's largest market.People often ask us why women and mom bloggers have become such big fans. Our social features really resonate with them because women are inherently community and service oriented.  Women and moms tend to be more social online than men and also tend to form stronger online relationships.There are 120,000 new blogs created every day and the total number of people engaging with blogs is expected to reach 150 million by 2012 (source: Technorati).  Every person has a unique story to tell and people are gravitating to blogs as a way to share what they know.  The social web is evolving from large, single-destination social sites to an integrated network of millions of smaller, niche blogs, all connected by a common platform.  Our vision is to be the common social platform that connects all blogs.By cross-pollinating content within a single network of blogs via the social widgets, BlogFrog helps bloggers increase exposure and traffic for their blogs.So how exactly does it work?BlogFrog serves both bloggers and blog readers.  Blog authors can add widgets to their blogs that let them see who visits their blogs (the Recent Visitors widget) and they can let their readers interact with each other by adding a community (Community widget).  The Community widget lets readers ask each others questions, see each others' blog posts, and each other's content from social networks like Twitter.  You can see what these widgets look like here:
BlogFrog has quickly grown to over 25,000 members, making it the largest, integrated network of mom blogs on the internet. The network grows because whenever a member visits another BlogFrog blog or community, their profile picture and blog URL shows up for all visitors to see. So the more BlogFrog sites and communities a member visits, the more exposure their own blog gets.  You could also call this "viral growth". BlogFrog has taken off as the best way to create a way for blog readers to interact.You can learn more by visiting BlogFrog!