We may earn money or products from the companies mentioned or linked to in this post, including Amazon Affiliate links.
A few weeks ago Verizon sent me two bluetooth tracking accessories called TILE to test out around the house. When I heard that I could attach one to my keys and never lose them again I was hooked. Until that point I literally would spend at least 20 minutes a day looking for them. Which made me start to wonder: how could busy moms use TILE to help reclaim their day and some of their sanity? I got the TILE out and attached it easily to my keychain and then installed the TILE app on phone. In a few clicks the app recognized my TILE and I was good to go. But I realized something cool. Not only could my phone find my keys, my keys could find my phone. TOO COOL. What to do with the other one? Easy. I gave it to my husband who set his up the same way and then we "shared" TILES. Now I could find his keys and vice versa. This was getting fun. So I headed to Verizon and bought a 4 pack for $69.99. I Tiled ALL THE THINGS. My purse, kids keys and so on, my car.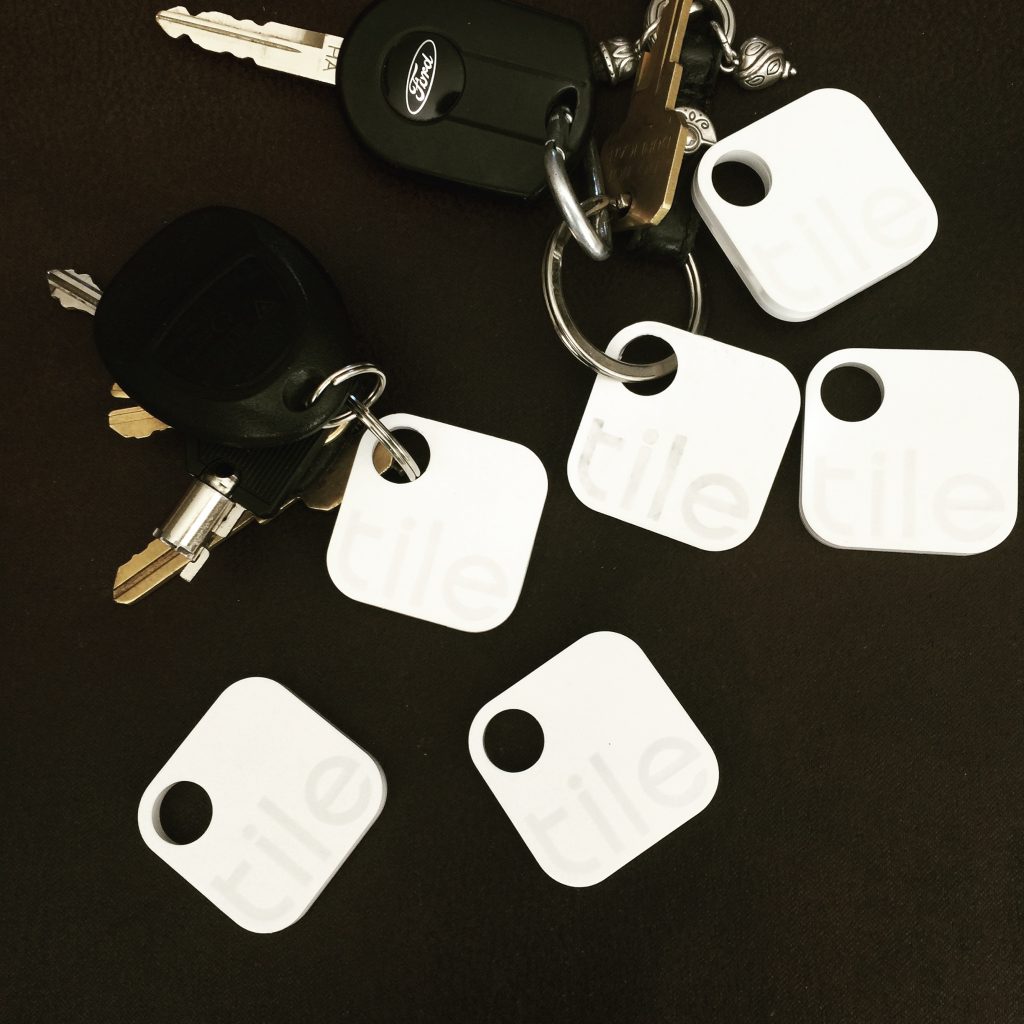 What? Your car? I can hear you thinking. Yup. Because if I ever am at the mall and can't find my car (don't laugh, I have a *friend* who does this all the time).  I can open the app on my phone and follow the map to my car. Now that is HANDY. Also, if my car is ever stolen? Yup, tracker in the glove compartment. I'll explain how that works in a second.
I was heading to Salt Lake last week and decided to TILE all the things going with me in case I lost it while traveling. I put one in the pocket of my luggage, my travel backpack and my purse. Now the luggage (like a stolen car) is a little trickier. Once it gets out of bluetooth range I can no longer beep it to hear the noise to find it or follow the map. It will only tell me where it was when it lost contact. But the makers of TILE thought beyond that and built in a LOST and STOLEN feature. Since TILE runs in the background of millions of phone users it creates a massive network. If report something LOST as soon as any other TILE user goes near it it anonymously pings me where my item is. I wasn't really sure how well this would work until last week my husband got an anonymous thank you note on his app for helping someone else find a lost or stolen item. Apparently he must have walked by it at just the right time. Pretty cool to be helpful without even knowing it.
I tell you, if I has little ones and was headed to an amusement park or someplace like that this summer I would SO stick a TILE in their pockets. Since my kids are adults now it would just be weird to do that to them (although I may have thought about it). But it's NOT weird to do it to my pets. I think the TILE is too big for the cat collar (maybe they can someday make smaller ones) but its perfect for my huge dog.
I posted my TILE excitement on my Facebook page and people went nuts wanting these. I found this little video that helps explain it all a bit better.
Are you a TILE user? What are your best tips on how busy moms use TILE?