We may earn money or products from the companies mentioned or linked to in this post, including Amazon Affiliate links.
Oh Pinterest. I love you so. The beautiful photos you post inspire me to bake beautiful cakes, dehydrate orchards of apples, redesign my home every season, and dress my children in perfect matching clothes at all times.
NOT.
What you really make me do is feel like a massive failure. And a little snarky. WHO has time for this stuff? Really? I am a working, homeschooling, traveling mom that has no time to color spaghetti (which actually doesn't work unless you use professional dye that they never tell you about).
So when I saw this photo from SnarkECards on Facebook this morning I wanted to jump up and down on my couch shouting YES! THAT!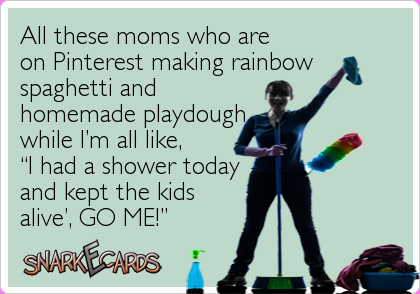 And apparently I am not the only one. Holy FB reactions Batman. Apparently a lot of moms feel this way. So I started my own pinterest board…The Real Moms of Pinterest .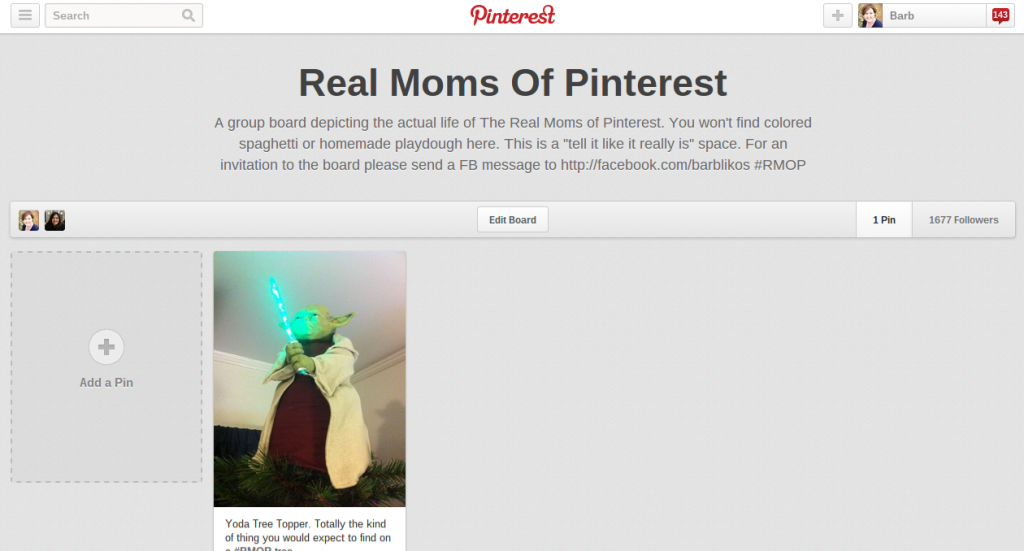 Right now it just has one lonely pin. But couldn't this be awesome? Real pics of real lunches. Like the carton of ice cream you gave them, not the themed bento box. What your kitchen really looks like, not the Martha Stewart version. Who's with me? Anyone brave enough to post what the Real Moms of Pinterest actually live like? I will. Here is my first one.

You may or may not remember that cupcake disaster from a few years ago. Plus I will throw in some pins I find that I think would be in a Real Moms house. Like the Yoda above. Don't lie. You would totally do that for your Stars Wars obsessed kid. And you would even pretend its because you loved them so much. Instead of the truth-you can't find that damned Angel you wrapped so carefully last year.
Who wants to join me on the Real Moms revolution? Leave your Pinterest ID here and I will add you to the board. I want to see pictures of dirty faces, mismatched outfits, bunny slippers in the carpool lane, frozen pizza's for dinner. C'mon? Help me out of my mom guilt….