We may earn money or products from the companies mentioned or linked to in this post, including Amazon Affiliate links.
This is a simple and easy DIY craft to help diffuse the smell of essential oils in your home. This DIY Reed Diffuser is the perfect fix for those rooms that don't have a home diffuser machine and can help you replace commercial sprays or toxic candles.
You will need:
Rattan Reeds– I bought the ones in this picture at IKEA. Because they are painted they tend to tint liquid they sit in. Ones like these from Amazon will not tint the water.
Fractionated Coconut Oil– 1/4 cup
Unflavored Vodka– 1 tsp. You can totally use the cheap stuff. It helps the mixture travel up the reeds.
Jar with a narrow opening– I bought this one at IKEA as well.
Essential Oils-as always I only use Young Living. You can get a discount on Young Living Oils here.  You will need 20 drops and you can do a combination of two or just a single fragrance like Lavender for the bedroom. I have some combination ideas below.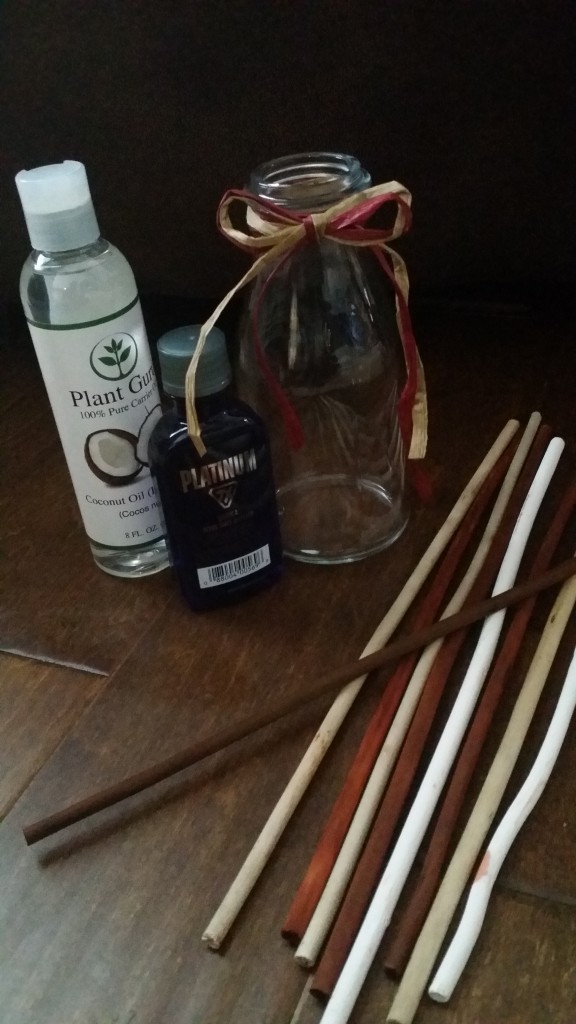 Mix the fractionated coconut oil, vodka and essential oils in the jar. Arrange your reeds. Flip the reeds after a few hours to help the fragrance travel up the reeds. Then flip them every few days to renew the scent.
DIY Reed Diffuser Essential Oil Combinations to try:
Peppermint and Ylang Ylang
Spearmint and Rosemary
Lavender and Cinnamon
Peppermint and Orange
Lavender and Lemon and Rosemary
Cinnamon and Orange
Grapefruit andLime
Lavender and Eucalyptus Radiata
White Fir and Cypress
Bergamot and Patchouli
Clove and Cinnnamon and Nutmeg
Stress Away and Orange
You need to replace the reeds once they get completely saturated because they can't diffuse at that point. How quickly that happens depends on how big the opening of the jar is. I add more oils at that point when I add new reeds. I throw away the whole thing and start over every 1-2 months. The alcohol helps keep it "fresher". How long will this last?  A lot of it depends where it is, the size of the reeds, size of the jar and your personal preference.
Update: I am currently running the best deal on Essential Oils I have all year. Click the picture to find out more.