We love homemade granola in this house. This last batch we decided to replace the cinnamon with cinnamon bark oil and it really kicked it up a notch!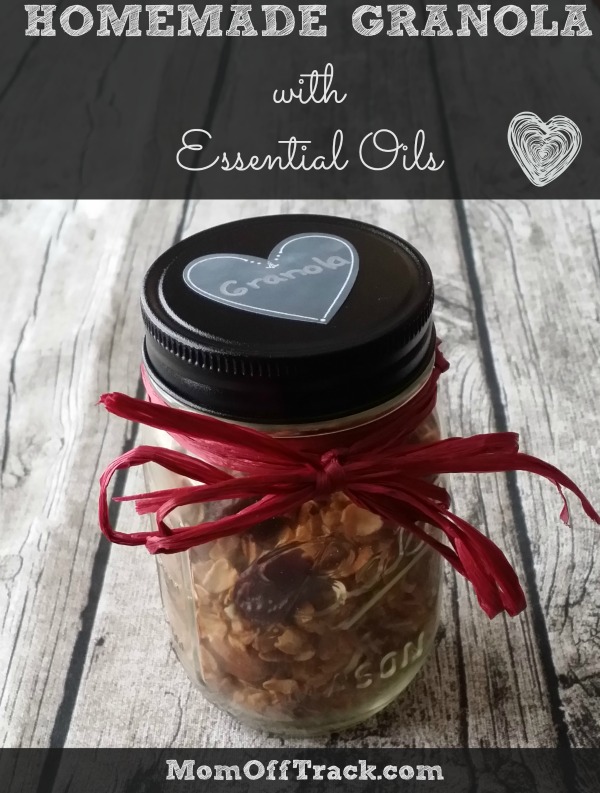 Cinnamon Oil Granola Ingredients
3 cups rolled oats
1/4 cup honey
1/8 cup canola oil
3 tbsp brown sugar
pinch of salt
3/4 cup dried cherries
1/2 cup raw pecans, walnuts or almonds
Cinnamon bark oil (click here to order from Young Living)
Nutmeg Oil
Cinnamon Oil Granola Directions:
Preheat oven to 350 degrees. Mix all ingredients by hand except the cinnamon oil in a large bowl until well coated. Spread evenly on a baking sheet lined with parchment paper. Bake in overn approximately 30 mins. Stir oats every ten minutes to make sure the granola is evenly browned. Once cool, place granola in 12 oz mason jars leaving about 1/2 inch headroom. Place 3 drops cinnamon oil  (and an optional 1 drop nutmeg) on top of granola, seal jar, and shake rigorously. Let sit for at least 12 hours. Shake occasionally and enjoy!
The amount of oil in this batch is low to give people a starting place. Feel free to add what your family likes after trying the first batch.