We may earn money or products from the companies mentioned or linked to in this post, including Amazon Affiliate links.
Everyone knows we go all out for Halloween at this house. Last year I shared how we decorate the outside of the house and use technology side effects to scare little children. This year I thought I would share the inside of the house and how, while you are tricking the kids outside, you can treat the kids inside. Click the picture below to see ideas for stepping up the tricks outside.
This year, inside, we are going for anything but scary. We are setting up treats inside with these Halloween bar accessories for the grownups with things I found at Gordmans.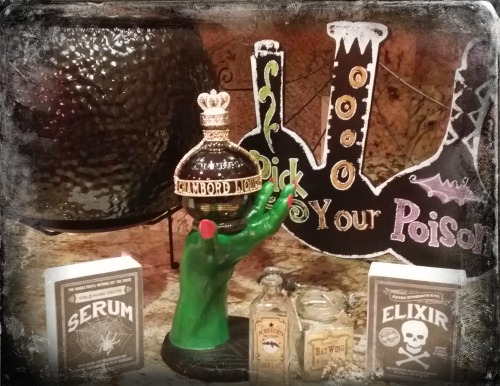 I finally found the perfect cauldron and I am going to whip up a batch of easy Chicken Chili from my latest Wildtree Frozen Meal Workshop to put in it. This does have a pumpkin cutout on the other side but it is the perfect size for holding my whole crockpot insert and just turning it around. PS-I love, love, love the green creepy hand in the above picture and it was on sale for $2.99!!
Slow Cooker Chicken Chili
1-1½ lbs boneless, skinless chicken breasts, cut into 1″ cubes
1 medium onion, finely chopped
15 oz can black beans, drained & rinsed
15 oz can white beans, drained & rinsed
1 cup frozen corn
14.5 oz can diced tomatoes
1 cup low sodium chicken broth
1 Tbsp Wildtree Adobo Seasoning Blend
1 bag Wildtree Creamy Ranch Dressing and Dip Mix
4 oz can diced green chilies (optional)
1 Tbsp hot sauce (optional)
At Cooking Time:
8 oz package cream cheese, cubed cup fresh cilantro, chopped (optional)
Mix all ingredients into freezer bag. Remove air, seal & attach label. Double bag and freeze. Thaw bag in fridge. Place contents of bag in slow cooker. Cook covered on low 6-8 hours or on high 4 hours. Shred chicken by pulling apart with two forks & add cream cheese. Combine with cream cheese in slow cooker. Cook an additional 30 minutes on high. Stir to combine. Top with cilantro, if desired. Serve with tortilla chips, rice (serve chili on top), or corn bread.
I plan to use the decorations above interspersed throughout wine bottles that I have decorated like this blogger has:
Looking to up your inside Halloween Game this year and provide some treats to grown-ups too? I have an awesome 20% off any single item coupon at Gordmans to share with you. Just print it out and do some spooky shopping of your own!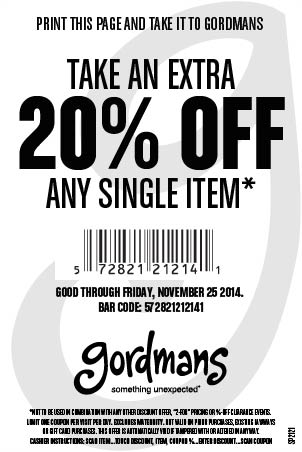 Disclosure: I was compensated to shop & share my awesome finds by Gordmans for this post.