We may earn money or products from the companies mentioned or linked to in this post, including Amazon Affiliate links.
I was recently invited to a Wildtree Freezer Meal Workshop night by a friend of mine. It's sort of like the old time Tupperware parties but instead of coming home with a bunch of plastic containers your kids will use as sandbox toys, you come home with 10 family meals ready to go in the freezer. Since I am always looking to figure out how to keep us from dialing up taking out, I thought "sure, why not?". I called up the Wildtree rep and paid my $60 which was $10 off because I signed up with a friend. The rep, Laura, said more information would be on the way.
A few days later I get a bright and sunny email with pre-party instructions and it was at that point I realized why I should have probably said "no way, Jose" instead of "sure, why not". But at this point I am $60 in and I figure it can't be all that bad. So, I printed my list and went off to Target of all places. I was tired and wasn't thinking. I spent $150 on meats and vegetables and ziplock bags and then came home to prep this stuff. I spent the afternoon cussing and cutting my chicken, pork, beef, shrimp and sausage. I diced 7 onions. I packed ziplocks with all the right meats and vegetables in numbered bags and then I packed it all in a cooler and waited for my friend to pick me up in her truck so we had room for all the coolers coming. There were 3 of us carpooling that day.
These are just some of the additional items you will need to buy: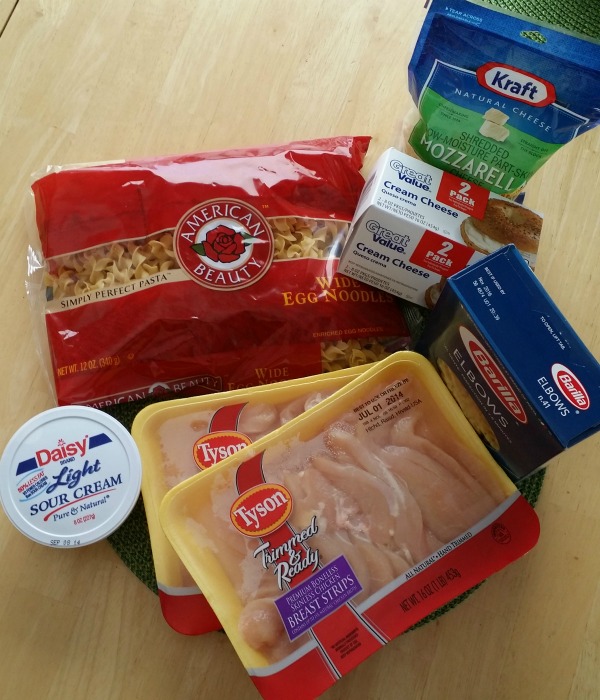 We got to our Wildtree reps house and had a small area assigned to each of us about the size of a table placemat. It was a CUTE house but the work space for 9 people was small and I was exhausted from shopping and prepping all this food all day so I was probably a little more crabby than usual. Suzanne from Crunchy Green Mom suggested if you were to host one you should plan for people to have enough room for each person to have their cooler behind them. We did all have fun measuring out the spices from the bundle of Wildtree products we spent the $60 on and chatting.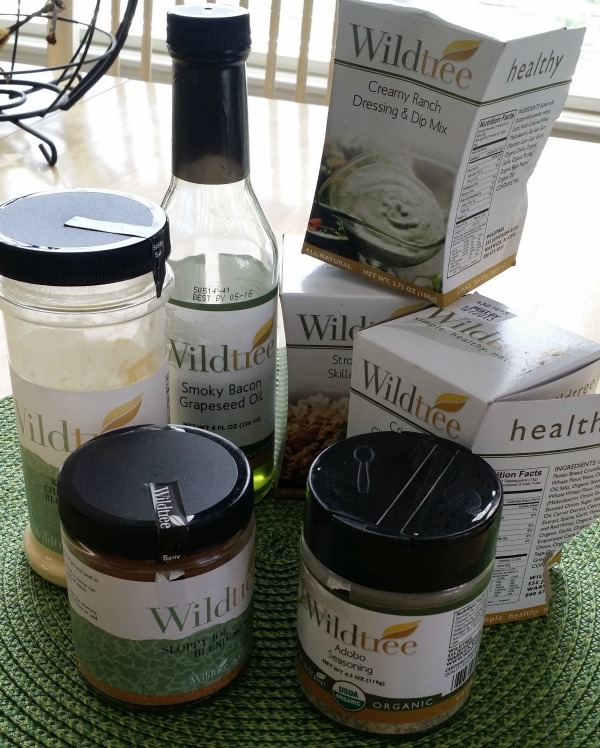 We added a few other "shared ingredients" like limes, water, salt, and pepper. I forgot all my measuring spoons and extra freezer bags to double bag. You put the label on the inner bag and then put another bag on top to protect it from spilling at any point. Smart. Thankfully the host had extra. I can't believe I forgot them as I had them all set out. Oh well!  Laura from Housewife Hellraiser also thought it would be a good idea to have a sink full of hot sudsy water  for washing out our measuring cups and spoons. Both ideas I will be sure to take into account when I host my party (more on that later).
After assembling all the bags we repacked our coolers, had a chance to purchase extra products or book a party of our own. We were there about 2 hours total. The host/rep gave us the finished recipes at this point and a cheat sheet to make cooking them easier. I was really dismayed to find out that several of the dishes need things like sour cream or cream cheese added when it is time to cook which smashed the whole dream that I was just going to pull these out of the freezer and save us from the pizza delivery man. I mean, really, at this point I am wondering what the heck I am doing here.
Let's do some math. I spent $60 on the Wildtree products, $150 on my first trip to the store for meats and vegetables and then the next day spent $30 on the additional items I needed to actually cook these meals. I am $240 in on 10 meals. And I have spent 2.5 hours prepping in my kitchen and cleaning it up, 4 hours total hauling my ice chest of meat to someone else's house to mix up the bags and about 2 hours total shopping. So, $240 and 8.5 hours for  10 bags like this: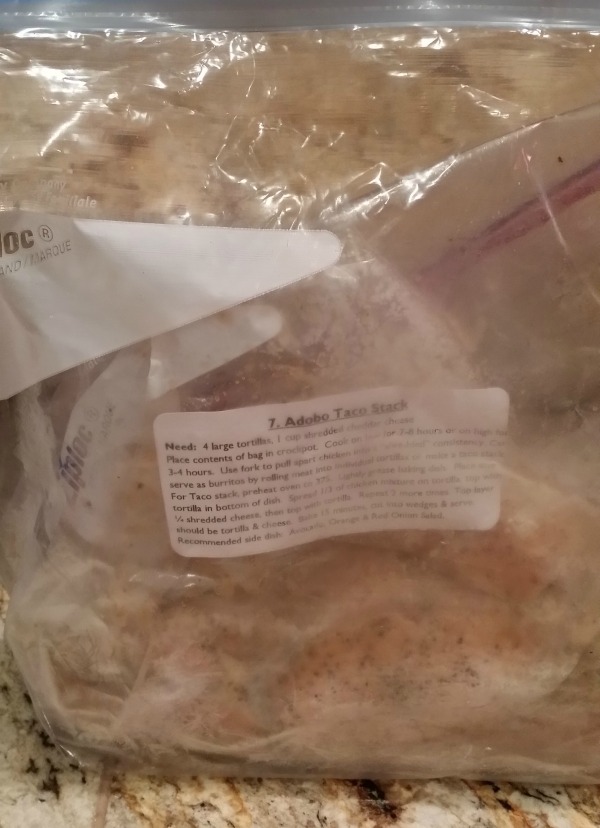 When I got home I was shaking my head as to why I did this but as a few days have passed we have had a few of the meals and my family has loved them. And I have loved being able to open up the bag and make dinner in 10 mins.Sort of like child birth, I have forgotten the pain it took to get to this point.  Many of them are crockpot or simple grilling menus. $24 a meal is less than half the cost of me ordering out and it is healthier as well. I totally could have saved money on the meats if I had put some effort into it. I talked with several friends about this and how the whole process could be simplified and here are some tips in case you get invited to one of these parties and are questioning HOW this makes sense. LOL. Believe it or not, I actually agreed to host one at my house after all this because it really did end up being worth it. But I definitely have some changes to make going forward…
My Advice for Preparing for a Wildtree Freezer Meal Workshop
1. Be better prepared. Ask your host/rep to provide you with the shopping list for the products you need for both preparing the bags and cooking the meals.
2. Use technology! I should have downloaded the pdf to my phone instead of printing it, especially since the wind caught it and blew it across the parking lot. I, also, should have just put the list into my Cozi shopping app so that I had everything at my electronic fingertips. That would have been super helpful for the next time I make these meals on my own. You will leave your party with enough Wildtree products to make some of these meals again. I could have used an app like Grocery Pal to help me see who had meat on sale in my area instead of randomly walking into Target. For as much as I rely on my Note 3 to be my personal assistant I sure left it out on this plan.
3. Consider a grocery delivery service. I have been using Walmart To Go for a few months now and I absolutely love it. The site is super easy to use, they have been on time and bring the grocery bags right to my counter, often times substituting anything they are out of with much larger sizes. Bonus! This alone would saved me 2 hours and a lot of energy. It would have been so easy to click through my list and have it all dropped off for me. I should have happily paid the $7 delivery charge.
4. Buy the meat already cut up. If you can't find stew meat, your butcher will likely cut it for you. Just ring the little bell and ask. I was able to find the chicken cut in both cubes and tenders. Big time saver.
5. Use your Cuisinart or other food processor. Nothing is worse than dicing 7 onions. You can also buy a bag of onions already cut up but you need a lot and it will add to your bill. Also, some need to be sliced and some diced so make sure you read the directions carefully.
6.Don't bring your meat!!  It would have been much easier to show up at the party with empty bags, add my spices and such and then go home and  add the meat the next morning. So much easier than dragging a cooler full of meat just to drag it back home. You can't bring your meat and prepare it in the bags to someone else's house. It's not sanitary and the party doesn't have a food handling licence or whatever it is they need. You are going to a person's home, not a commercial kitchen so you have to do the raw meat at your house anyway. Do it after instead of before. This was also the biggest advice from Chrissy at Clumsy Gourmet.
7. Use technology again! If you didn't do step 1 & 2 you still have fresh items to buy in order to be able to serve these meals. Snap a picture of the cheat sheet so you have it with you the next time you are at the store.
I have been having a rough couple of weeks health wise and it is so nice to have dinner ready tonight. I just pulled out the defrosted bag and emptied it into the crockpot to make Slow Cooker Chicken Chili. The Wildtree recipe below will give you a look at how this all comes together.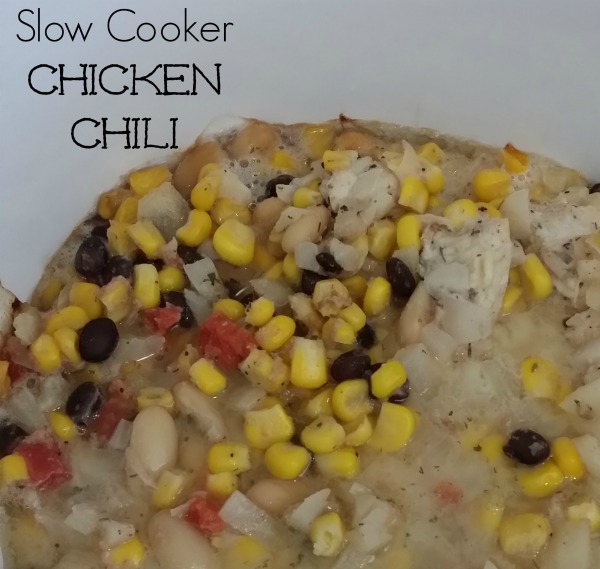 Slow Cooker Chicken Chili
Slow Cooker Chicken Chili (#3)
1-1½ lbs boneless, skinless chicken breasts, cut into 1″ cubes
1 medium onion, finely chopped
15 oz can black beans, drained & rinsed
15 oz can white beans, drained & rinsed
1 cup frozen corn
14.5 oz can diced tomatoes
1 cup low sodium chicken broth
1 Tbsp Wildtree Adobo Seasoning Blend
1 bag Wildtree Creamy Ranch Dressing and Dip Mix
4 oz can diced green chilies (optional)
1 Tbsp hot sauce (optional)
At Cooking Time:
8 oz package cream cheese, cubed cup fresh cilantro, chopped (optional)
Mix all ingredients into freezer bag. Remove air, seal & attach label. Double bag and freeze. Thaw bag in fridge. Place contents of bag in slow cooker. Cook covered on low 6-8 hours or on high 4 hours. Shred chicken by pulling apart with two forks & add cream cheese. Combine with cream cheese in slow cooker. Cook an additional 30 minutes on high. Stir to combine. Top with cilantro, if desired. Serve with tortilla chips, rice (serve chili on top), or corn bread.
Disclosure: The Willdtree Freezer Meal Workshop was in no way compensated. Any mention of my technology products are likely a result of my relationship as a Verizon Influencer with #VZWBuzz.