We may earn money or products from the companies mentioned or linked to in this post, including Amazon Affiliate links.
I have had a lot of phones. I test them for Verizon Wireless as a part of the #VZWBuzz team and love most of them to some degree or another but its rare that I love a phone in its entirety. You might remember I just compared my last three phones and ended up liking the Droid Ultra the best. But now a new heavy weight champ has entered the ring and I love, love, love it- the Samsung Note 3 Phablet.
What's a phablet? Its a phone and tablet crossover. I admit it is big. Compared to an iphone it looks ginormous. One of the #VZWBuzz Insiders Tommy did a great video that shows you how the Samsung Note 3 stacks up to the other devices in the market
But even with it's bigger than average size I can still easily slip it into the back pocket of my mom jeans (don't judge) without its case. With it's white leather and rose metal look it is simply the most beautiful phone I have owned and to be honest, I often go naked (the phone) with it because I love showing it off. But for those occasions when a case is absolutely required like traveling and going to sporting events or concerts I rely on my handy, sporty Spigen in orange. Here you can see both completely different looks.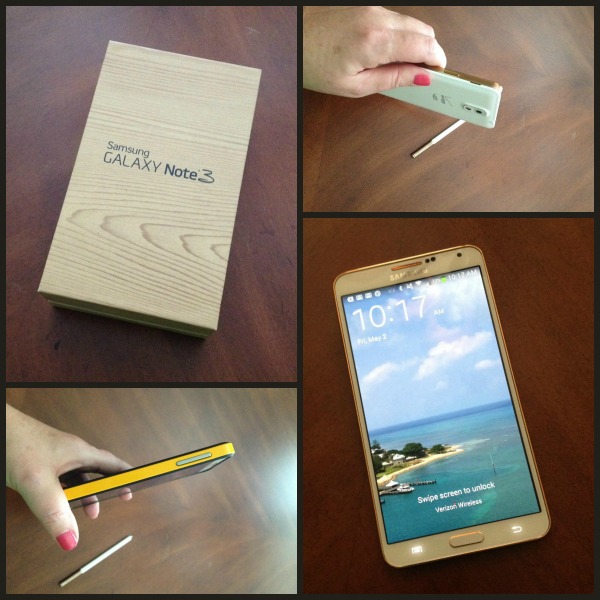 By the way, that screensaver is a picture I took in Jamaica with the Note 3. Pretty awesome, huh? The camera is great, has all the features I talked about in my review of the S4, easy to use and makes it super easy for me to auto upload all my photo's to Dropbox and keep them safely tucked away in the cloud in case I lose my phone on vacation.
So what really makes this phone the BEST answer for me? Really its 3 important things:
Size: I have been able to replace having to take both a phone and my iPad on trips.
The 5.7 inch AMOLED screen makes it really easy to watch movies and read books on it. With the recent craziness of airlines starting to charge for carryons the less, and smaller, devices I can get away with that perform triple duty are essential.
The Pen. I write myself notes with it all the time. Often more serious than this one. It's been great for jotting down phone numbers, quick to do's and more.
Battery life and how it keeps up with me. To be honest, I wasn't thrilled to take it out of the box and find another, different looking charger. But then I did some reading and found out that the supplied charger is really just a super charger and the phone is backwards compatible with the regular android chargers (although slower) which leaves me with lots of options. I can easily make it through 24 hours of use without having to charge.
In short, this is my go-to device for just about everything. Many people on the #VZWBuzz already have the new Samsung S5 in hand but to be honest, I am a little bit dreading it coming my way because I just am so much in love with the Note 3. For those of you curious about the S5, Beth Levine is one of the first on the #VZWBuzz team to write about it here: Capturing Natural Beauty on the Go. But if you are a blogger, work online or travel a lot, I really think you need to get your hands on the Samsung Note 3. It is a workhorse in a beautiful package that does not disappoint!