We may earn money or products from the companies mentioned or linked to in this post, including Amazon Affiliate links.
When switching over from the world of Apple to the Android market you will be faced with dozens of choices. How does a confused shopper know which is the best model for them? They are all shiny and new and completely different from the trusty iPhone. Here is a secret: Android models really aren't that different from one another. At the core they are basically the same phone with tweaks that make one a better fit than the other for individuals. Over the last 6 months I have tested the following three Android phones as part of the #VZWBuzz program with Verizon Wireless: Samsung Galaxy S4, LG G2, and the Droid Ultra. While each phone has it's pro's and con's, read on to find out which one is currently in my purse and why. In the end, it is completely unscientific in finding the "best" Android.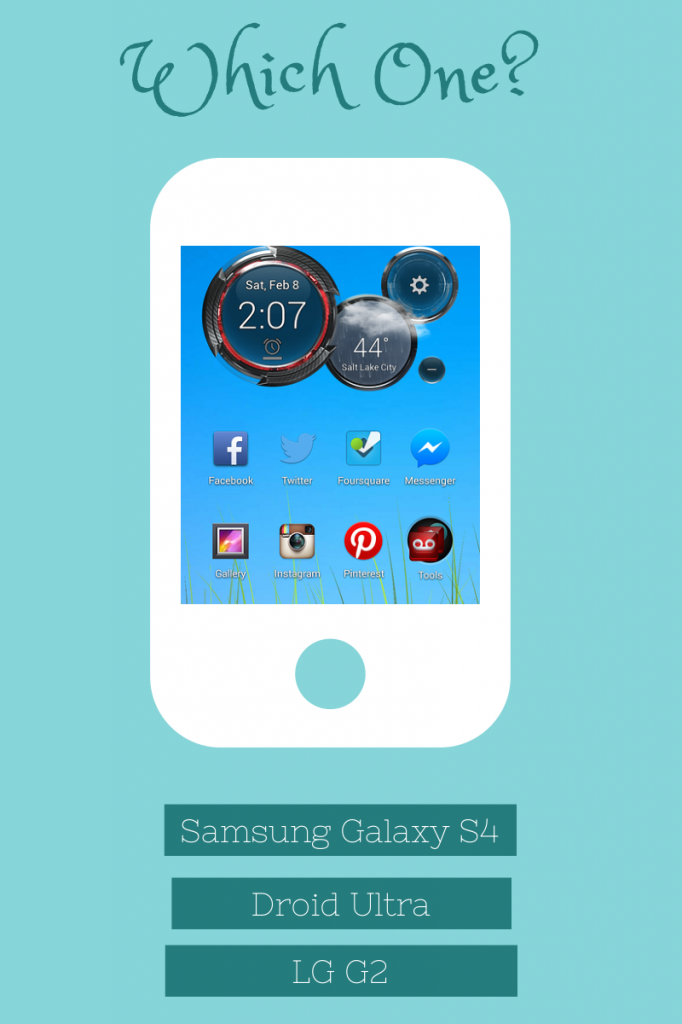 The 13 megapixel rear camera on the Galaxy S4 wins hands down for its ease of use for me. While all three of the cameras have similar shooting modes and software (the Droid camera is 10 megapixel), Samsung's layout worked best for my brain. I've come to learn that I can't live with any camera that doesn't have an action shot (burst, drama, etc…-called different things on different camera's) but basically that shooting mode that takes many shots in short bursts. Samsung's drama shot can take up to 100 shots in a short burst, guaranteeing that perfect frame in at least one of them. It's how you make ridiculous shots like this happen.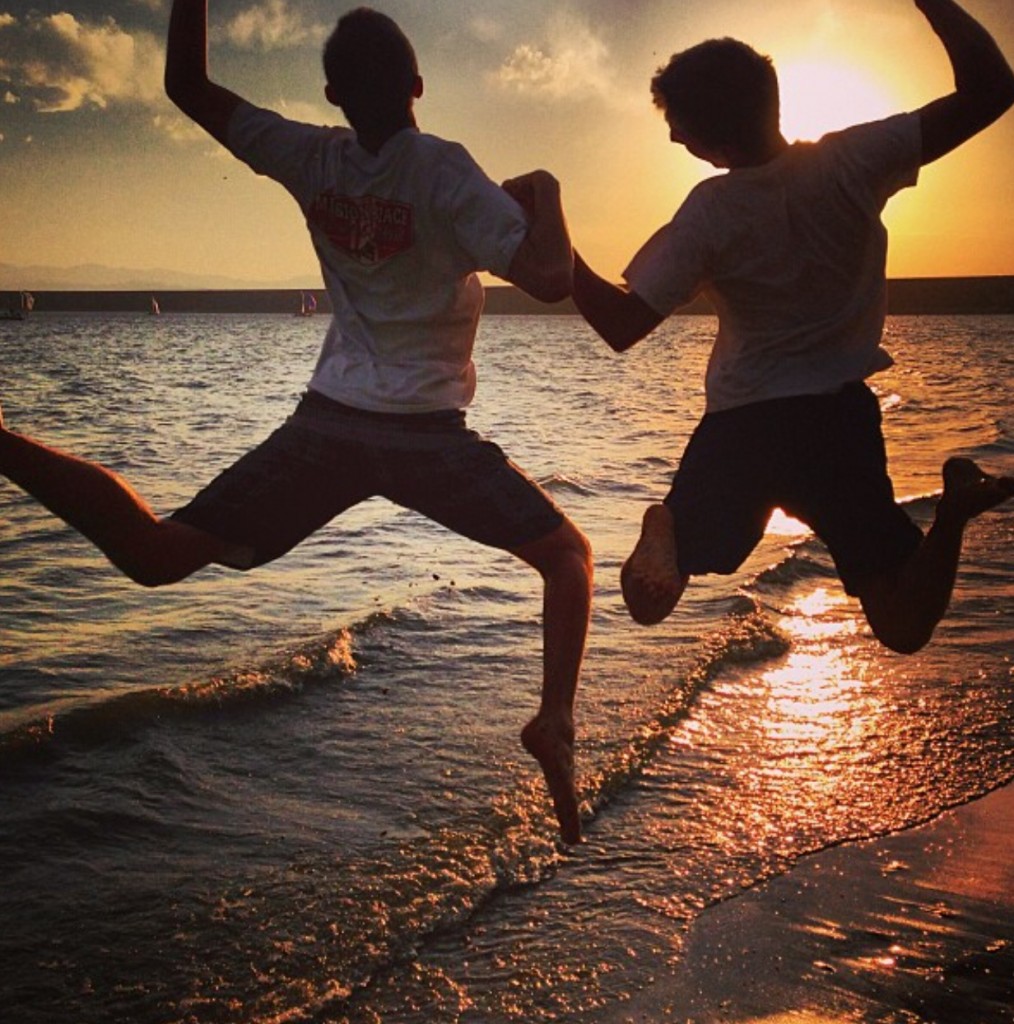 Screen size is probably the biggest reason that I switched from the iPhone so this feature is a biggie for me and for this the LG G2 is the clear winner. Because the G2 has a 5.2 inch LCD screen the colors are more realistic and the viewing area is larger. I was able to easily use this phone to watch a movie on a plane ride home without feeling the need to pull out my iPad. Huge bonus for me as the seats are small enough. The less I have on my lap the happier I am. One thing that I did not like about this large screen though was that many of the widgets made for Androids have a smaller footprint leaving my larger widgets with lots of grid space around the outside. Apparently I am more OCD than I thought because this drove me batty. It's a sloppy picture but this will give you the idea.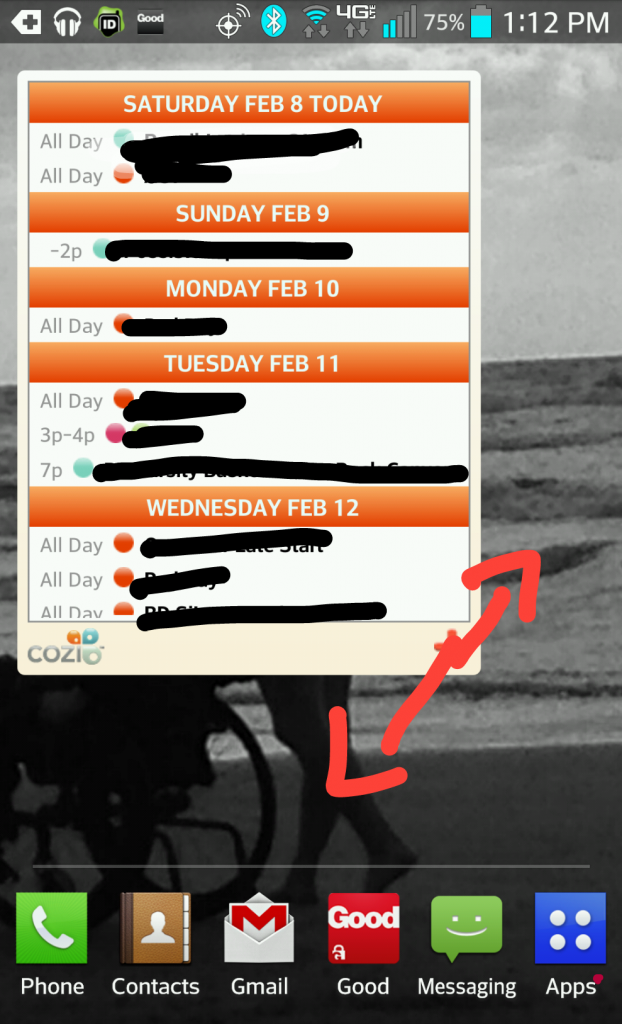 Making screen shots and drawing on them using Quick Memo on the LG G2 is really handy.  Another huge win for the G2 for me and I miss on the other phones is the ability to change the background and bubble look on text messages. This is huge for people that accidentally text the wrong person ALL. THE. TIME. I could put the persons pic on the screen so I didn't make that mistake. G2 wins hands down for personalization. I wasn't a fan of the back button placement or the user buttons being a part of the screen.
Then comes the Droid Ultra. Huge bonus out of the box is the charger. Nice.
 The other thing you notice when you turn it on is that it beeps and buzzes a lot and sounds very robotic-not in a Siri sort of way but more in the cool sci-fi way. There are a ton of stock options for ringtones and notifications that are just plain fun.It struck me immediately that this is a phone made for my oldest teen. The body is made of Kevlar, making it a tough phone and more resistant to my drops. The Ultra is much more "stock Android" than either the G2 or the S4 which for me makes it feel cleaner. The one widget that I really like is Command Center.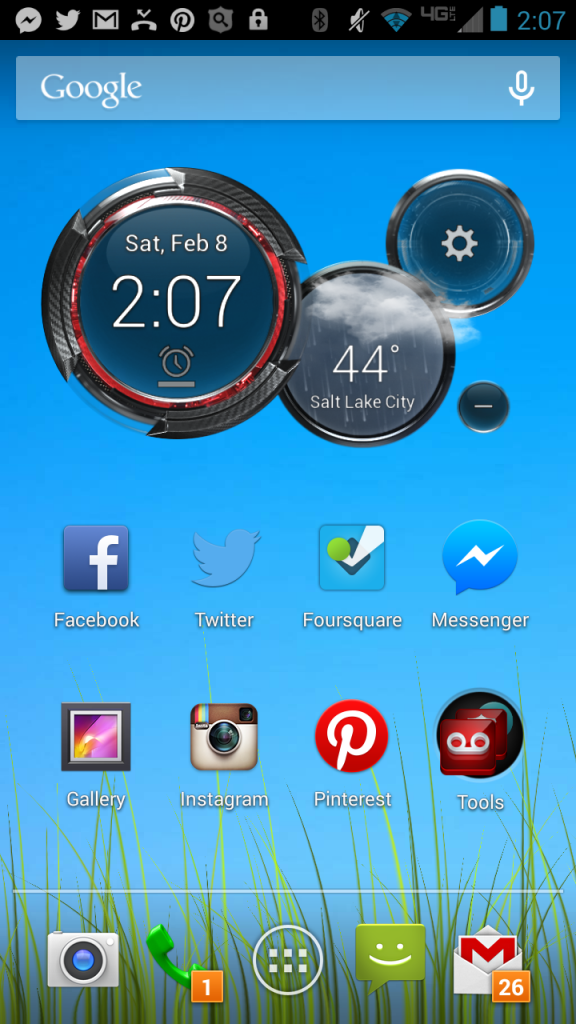 As you can see, my phone gets used heavily for social media. I like the Droids notifications system for that. My phone can be completely asleep and I can walk up to it and tell exactly what messages I have and the type. I'm visual so the use of all of their graphics appeals to me.
So, what is currently in my purse? The Droid Ultra and here is why…
Out of the 3 I find the spell checking and typing to be the most accurate.
"OK, Google Now…. " is also more responsive and accurate.
Beeps, buzzes, circles and white kevlar….all just appeal to how I like things to act and sound.
Social media notifications that keep me up to date even when the phone is in sleep mode but are not intrusive
Its zippy and fun
I need my phone to act as a secretary and this does it well. It also plays better in the social media spaces switching quickly and easily between everything I need.
I think my choice may actually surprise some people but what I said at the beginning is completely true. All of these are great devices. It's a personal choice. You really have to spend some time thinking about what is most important to you. For me it was a tough choice to change from the LG G2 to the Droid Ultra. I  My friend Sarah swears by her Galaxy S4. For me, it had too much bloatware-apps Samsung wanted me to have that I didn't feel I needed but then again I am dying to try the Note 3 and I am assuming that will come with the same apps so it couldn't have bugged me too much. I think I didn't give the S4 a fair shake in all honesty since it was my first Android experience after years of Apple. Like I said, I am thinking I will love the Samsung Note 3.
I know not everyone has the luxury of having the latest and greatest new phones dropped on their doorsteps and for that I am grateful to be a part of the Verizon Insiders. My best advice is to head into a Verizon and hold the phones, try them out, ask friends what they love and WHY and then use that info to help guide you in figuring out which one has the features you will like. I, also, am a huge fan of the new Edge plans so that you can switch up your phone choice as often as every 30 days!
Here are some links from other Verizon Insiders to help you make an informed choice:
Samsung S4
LG G2
Droid Ultra
Bonus links on the Samsung Note 3 which I have not reviewed yet.