We may earn money or products from the companies mentioned or linked to in this post, including Amazon Affiliate links.
Looking for the right Christmas gifts for the college crowd? I was too. Turns out they have plenty of wants and needs and no money to get them! What a perfect time to spoil someone. Here is a list of things that are perfect.
Gift Cards: It seems impersonal I know but it REALLY isn't. Kids who don't have a car on campus will love giftcards to stores and restaurants within walking distance. Google a map of their campus and zoom out a bit. The map will show you what they have right around them. You can then go to places like your grocery store that likely sell 100's of different store giftcards or an online dealer that will have a wider variety. Even if you can't find a place close to their campus, they will love one to stores at home. One place we like to give giftcards too is Gordmans. They have a great selection of cool posters, sheets, and even new clothes (my sons LOVE their dri-fit collection). It's about time that a new something in the room or closet would be a welcome pick me up! There is a great coupon to attach to the giftcard at the bottom of this post.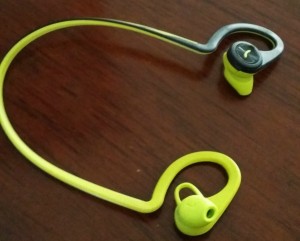 Headphones: Headphones are one of those things that college kids tend to go through a lot. They have their expensive pair, their work-out pair, their $15 earbuds for walking around campus. It's those buds that they lose constantly! Pick up a pair for their stocking and you will be sure to get thoughtful points. But if you are looking for a nice set of headphones for working out my college age gym rat LOVES the Plantronics® BackBeat FIT wireless stereo headphones. Not only do they look super cool but they stay in place while lifting weights and running on the treadmill.
Cell Phones: We have 3 models that have been a hit with our Verizon college aged testers this last semester:
The Kyocera Brigadier. This Bear Grylls inspired model that we posted about last month is still a HUGE hit. It's indestructible design makes it the perfect for the college crowd.
Droid Turbo. Battery power is EVERYTHING with college kids. With the ability to get an 8 hour battery charge in 15 mins this is one hot item this summer. Especially in RED.
HTC One Remix. This is a smaller phone that many college kids love for sticking in their pockets. Its got a great set of front facing speakers and a 13 megapixel phone. Lots of power in a compact size.
HTC ONE REMIX and MOTOROLA DROID TURBO: 
Music: A subscription to Pandora, Google Play All Access (make sure they have an Android) or iTunes is ALWAYS an appreciated gift.
Bunk Buddy: My son and his friends LOVE this little invention for their lofted beds. One kid showed up with one and now everyone on the floor has one or wants one. It's a little tray that clamps on and stay's in place that they can place a drink or any of the other gadgets mentioned in this post.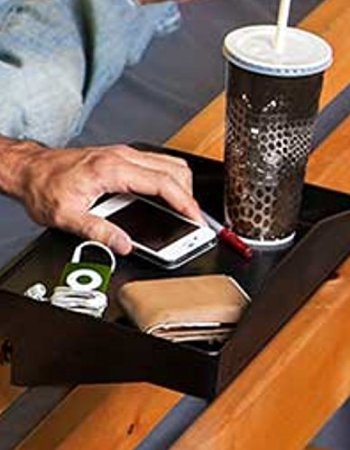 Speakers: 
The SOL REPUBLIC Punk wireless speaker is the perfect dorm room accessory. Wireless, bluetooth dorm room speakers were the number one requested item when I asked around this year. The Punk is relatively inexpensive in this category and packs a huge punch. Its water resistant, works up to 60 feet away, and has a really small footprint. Bonus: it comes in some super cool colors. 
I was really intrigued with the AwoX StriimLIGHT WiFi when they sent it to me. This little device does triple duty in a dorm room. It's a wifi speaker contained in a LED light bulb. Your music player pumps out your favorite sounds anywhere you can plug in a lamp AND you can control it remotely which is actually a very cool feature for kids who loft their beds.
Tablet:
Believe it or not my college age student uses his tablet more than any other device. He does everything from watch movies to take it to class and video notes or write papers on it. He doesn't use a laptop at all. Instead he relies completely on his Nokia 2520. We have recently been taking the Verizon Ellipsis 7 for a test ride and are really impressed. This is more for downtime in college life. It's small size makes it the PERFECT and inexpensive way to relax between classes with movies, games and more.
Video Games: 
Believe it or not college kids still find time to relax with their video games. It's also a great way to connect with siblings and cousins over live play modes. Two most requested games among our college age friends?
These are just a few of my ideas for the college aged student in your life. What are your ideas? What great ideas do YOU have? 
As promised here is another awesome coupon to use on your holiday shopping spree at Gordmans. It's good for 20% off any single item until December 31st. PS—don't print it. Just pull it up on your phone in the store 🙂
*Disclosure: Many of the items on the list were sent to me to review. I liked these items enough to recommend completely on my own. I have compensated relationships with some of the companies here. Most notably Verizon Wireless as part of the #VZWBuzz Social Media Team and Gordman's.