We may earn money or products from the companies mentioned or linked to in this post, including Amazon Affiliate links.
This past May I spent a few days immersed in tech at the #VZWBUZZ San Francisco event. I received so many new items that I am in love with. But one of those was taken away from me immediately upon unpacking. Connor took one look at my new Nokia 2520 tablet and I haven't seen it since. Well, I do see it but never out of his hands. I see it when he is getting ready for his upcoming college classes by studying chemistry, or when he is watching Netflix, or even when he is blasting Pandora. But have I played with it since those few blissful days in San Fran? Nope. And I am not going to. After a summer of declaring the Nokia 2520 his, he is taking it to college instead of his laptop.
So, obviously I had some questions. Can a tablet really perform the duties of a laptop or desktop for a college student? Is it possible that a tablet could actually replace his laptop? Turns out the answer seems to be a resounding YES, YES IT CAN. This little beauty with a 10.1″ HD display combined with the Nokia Power Keyboard is ready for work or play. With the simple swipe command feature its extremely easy navigate between apps making an easy switch from Doodle Jump to looking like you are actually studying.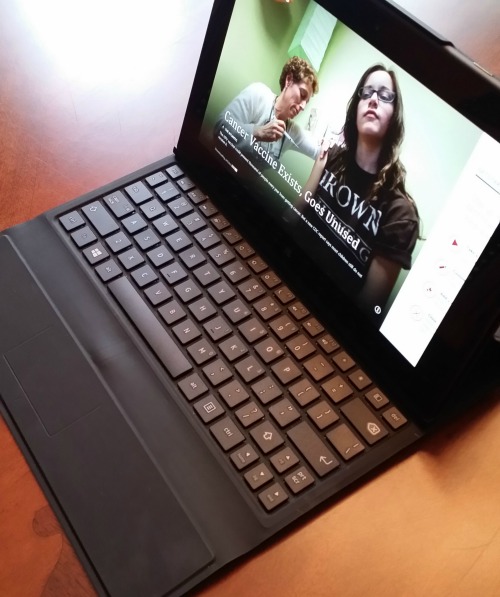 Running Windows 8.1 with a SnapDragon processor, the 2520 is the perfect choice to run Microsoft Office apps like Excel, Word, PowerPoint, OneNote, Microsoft Outlook, and OneDrive storage for documents and notes. All of which came on the tablet and most of which are essential to the college or high school student. Even though the tablet has a shocking 32 GB of built in storage, I encouraged him to move all his major high school papers to the cloud so that they may be "reworked and re-purposed" in some of his core classes.
The 6.7 MP camera will be perfect for taking video during lectures. Wait, is that actually allowed? You know, in case he is a bit tired to actually take notes. I have no idea why he would be so tired though since I am sure he will be in bed by 8 pm every school night. Right?
I can't say enough about the power keyboard and case. Its a great, comfortable, sleek design that protects the 2520 while looking very professional. You can actually take this and shake the tablet in it and it won't come loose. The case has two additional USB ports and acts as a back up power source recharging the tablet connecting through a port and not using Bluetooth which means it is safe for him to use on all those flights home when he misses his mom. The case also makes a great stand for watching movies.
Speaking of movies…the 2520 makes a great entertainment device for those few minutes each day when he won't be studying. The HD display works wonderfully with Netflix and Hulu and even Skype so he can call me up and see my beautiful face when he is homesick. OK, more realistically so Carter can send him videos of the dogs and cats and Bob can send him YouTube videos of Ed Bassmaster farting. Hey, a mom can dream, right?
Disclosure: As a member of the #VZWBuzz team I am provided with products and compensation by Verizon Wireless for my honest feedback and reviews.