We may earn money or products from the companies mentioned or linked to in this post, including Amazon Affiliate links.
Have you heard that when using citrus essential oils in any recipe (like Bug Off – Extra Tough) that you need to use a glass spray bottle instead of plastic? It's true. Citrus essential oils leach chemicals out of plastic! If you already knew this you may have gone searching on Amazon or your local store for a glass spray bottle only to find that they are kinda crazy expensive! Stop the madness and make your own DIY glass spray bottle with what you have in the house.
How To Make a DIY Glass Spray Bottle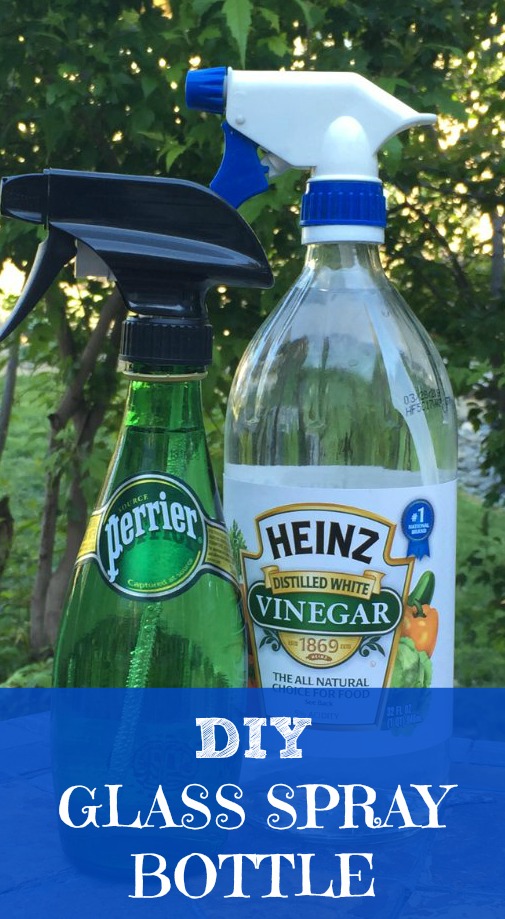 Clean any glass bottle that originally contained a natural ingredient (white vinegar, Bragg's vinegar, Perrier) with a narrow screw top opening and clean and dry it thoroughly. KEEP CAP!
Fit with a clean and dry plastic spray trigger. The bottles above fit spray triggers I had in the house from other cleaners/projects. If you don't have any you can (affiliate link) buy spray triggers from Amazon here.
Do NOT store the plastic trigger spray in the bottle. Cap it off with the original lid so that your spray trigger is not sitting in essential oil mixture leaching chemicals for long periods of time.
Remove the original label with a little bit of Lemon Essential Oil (Young Living Premium Starter Kit New Member Voucher Code)
I'm always on the lookout for other glass bottles I can re-purpose in the stores. What kind do you use? Help us all out and leave a comment so we know!