We may earn money or products from the companies mentioned or linked to in this post, including Amazon Affiliate links.
Good Morning Everyone!
The sun is shining, the birds are singing and today happens to be my birthday. Happy Birthday to me! It also happens to be the first day of my starting Gretchen Rubin's, The Happiness Project. Last night some of the amazing women from Mom It Forward got together for a virtual book club chat led by Angie Lee and inspired me to read it. I am just a few pages in and have already found so many things resonating with me.
The words of the writer Colette had haunted me for years: "What a wonderful life I have had! I only wish I'd realized it sooner." I didn't want to look back, at the end of my life or after some great catastrophe, and think, "How happy I used to be then, if only I'd realized it."
Kristen does a great roundup on her blog each week of her Happiness Project progress and has inspired me to do the same here. I haven't picked a day in each week that I will post about it, but I will, I promise. I am going to start now.
Happiness Project #1 Started on my 39th birthday!
One of the things I can tell you makes me happy is how much travel and spa writing I am getting the chance to do. Last night I found an invitation in my inbox to attend a fun event in NYC all expenses paid the end of April. YAY! I am trying to think how I can take Connor along to see the Big Apple as one of my big goals over the last three years we have him home is to spend more time traveling with him.
Spa Week is coming up! Which makes me VERY happy. I have an appointment almost every day, April 11-17th to write about a new spa experience. The really cool thing about Spa Week is that you can get a ton of treatments for $50. Which is a super cheap treat for yourself in the spa world. I am going to do things I have never done, like botox and spray tans. I remember the first time my sister in law got a spray tan, she was completely orange. So, I am hoping that has changed in the past 10 years. Fingers crossed.
The last thing on my happiness project today? I am breaking my own rules and actually running a giveaway for the first time in a very long time. It's going to be super simple and I really hope you play along.
Prize:
One $50 Spa Week Gift Card that is redeemable year around, and it never expires. It can be used during Spa Week as well.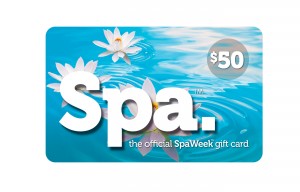 How to enter:
There is one thing I am always dying to know when I get a massage: Should I get completely naked? I undress down to my granny panties. TMI? Probably, but if you want to win you have to tell me your naked truth!
Leave a comment telling me if you get completely naked for a massage or just how disrobed you get.
That's it. No other hoops to jump through. For you guys and gals that love extra entries I will give you more options.
Extra Entries: You must leave a separate comment for each entry and extra entry-it's how I count how many entries you have.
1. Browse the $50 spa week directory (enter your zip code on the left hand side) and tell me what treatment looks the most enticing. There are  a lot of different things to do besides the standard mani/pedi.
2. Tweet something like: Do you get naked for spa treatments? @chaotic_barb & @spaweek want to know: http://bit.ly/gjXXJn
3. Like Spa Week on Facebook
4. Like Mom Off Track on Facebook
Rules: Open to US Residents 18 and older. It's your responsibility to make sure spa's in your area are participating by checking the Spa Week site. Giveaway ends April 7th, 2011 at 7pm MST. Either random.org or The Winner Is Plug In will be used to determine the winner. Read the full Terms and Conditions here.
And the winner is….
Congrats KIA! Email on the way!