We may earn money or products from the companies mentioned or linked to in this post, including Amazon Affiliate links.
This past spring break my family and I took a 4 night Western Caribbean cruise docking in both Key West and Cozumel.Celebrity Cruises had a reputation for being very wheelchair friendly and we choose The Constellation for 3 reasons-accessibility, dates, and we got a kicking deal booking last minute.  The Constellation was built in 1991 and while its age is showing a bit, we thoroughly enjoyed our time on board. We had two balcony staterooms, cabins 6107, which is handicapped accessible and 6108. I wrote about the wheelchair accessibility of Celebrity Constellation on Traveling Mom if you want to check that out as well.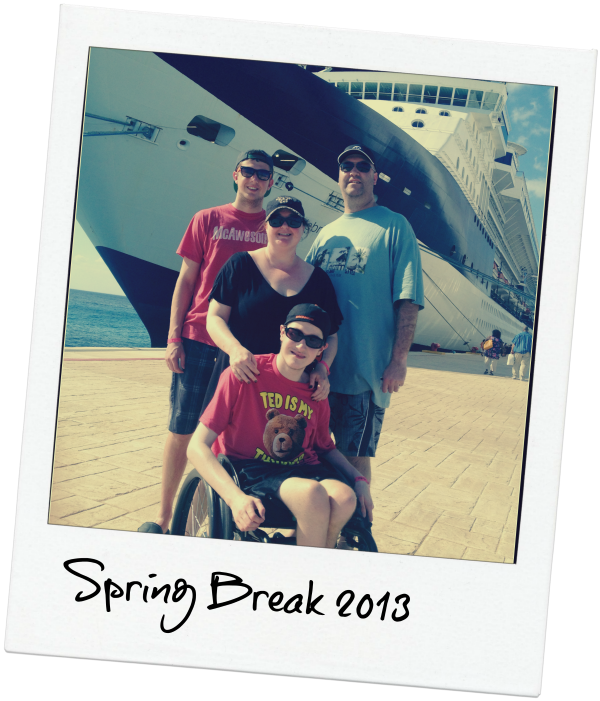 Here are the Top 5 Things We Loved About Celebrity Cruises Constellation
Ocean Liners
In order for us to do a Celebrity Constellation review the PR department was kind enough to arrange a special dinner for my birthday at Ocean Liners, their premier pay French restaurant. The restaurant is beautiful and any foodie would be in heaven here. My family was treated to all the special menu offerings but the highlights were the flambéed lobster and the dark chocolate soufflé. If cruising on board with kids I suggest sending the kids to one of the many activities and making a date night at Ocean Liners.
Comedian
The entertainment on board The Constellation is top notch but we really fell head over heels for James Stephens III. He was the perfect blend of family fun while appealing to both the teens and adults. This is a long video but if you have time, watch him, he is very funny and just seems to be an all round great guy.
Buffet/Home Made Ice Cream
Celebrity Cruises are well known for their food and certainly lived up to the hyped. Our family never made it to the formal dining room because while on vacation we prefer not to be tied to a dinner schedule or get dressed up. We prefer room service or the buffet. During my pre-cruise research I found many reviews on Cruise Critic raving about the ice cream. I kept thinking it seemed like such a silly detail. Oh, was I wrong. The homemade ice cream is indeed all it is cracked up to be and more. My boys must have had 4 helpings a day. I reluctantly stuck to one (OK maybe 2) a day. If you are lucky enough to be there when the Mint Chocolate Chip is out, STOP. You will thank me later.
Solarium
We spent most of our pool time in the indoor solarium because the one wheelchair pool lift on the entire ship is dedicated to the jacuzzi here. Unique to the solarium is the thalassotherapy pool which attempts to use sea water as a form of medical therapy. I don't know that it made me healthier but I sure loved it. The AquaSpa restaurant is also located in this area. With Bob on a newly diet, which is going fantastic for him by the way, we ate a lot of light lunches here. The boys preferred to hit the burger bar in the main pool area-over and over and over again.
Making Memories
 Above all The Constellation provided us with a great background for making memories. Really, when I look back on the cruise what I remember most was just how easy it all was. Very little struggling with the wheelchair was involved, Carter was happy, Connor was happy and well fed, we were happy and relaxed. We spent lots of time lounging by the pool or a beach with umbrella drinks. It just overall was a great family time and I am thankful we booked it and appreciative the team at Emanate PR for making the trip extra special. Here are some of our favorite times!