We may earn money or products from the companies mentioned or linked to in this post, including Amazon Affiliate links.
As many of you know we lost a dear member of our family a bit ago. Nala passed way too young and too quickly and it will take a very long time for the six of us (including Floyd and Emma here because they miss her just as much) to heal.
But we are thrilled to be sharing some good news! We are expecting a new 18 pound-ish baby any day now.
Our new baby is just 8 weeks old and will be joining our family next Monday if all goes right with Denver's wacky weather.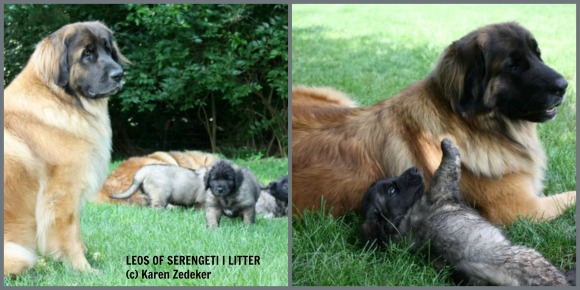 Leonberger pups from reputable breeders (members of the LCA)are hard to come by. There just aren't that many born a year. So we feel very privileged to have Karen Zedeker of Leos of Serengeti entrust Pink Girl to us. If you are looking for a Leo pup, we have had a stellar experience with her so far. Leo's have many health issues so if you are interested in one that is just one of many reasons to make sure you purchase one from a LCA breeder. Please, please, please don't fall into a puppy mill trap. People advertising lots of litters are very suspect. Reputable breeders only have one or two a year depending on how many females they have. If you aren't sure, leave me a message and I will help you do some checking.
Why go through all of this for a Leo though and WHAT is a Leonberger?
Leo's are very special gentle giants. Pink Girls dad is 180 pounds! They have amazing personalities, gentle souls and loveable, fun quirks. They are a dog that melts your heart and generally make amazing therapy workers. While we love them immensely, they are not the dog for every family but they certainly are for ours.
Carter's hope is to get our new girl into the Prescription Pet Program at Colorado Children's Hospital. We, obviously, know how much this program brings to sick children as Carter would wait everyday for the therapy dog on rounds to visit. It truly takes the kid out of the situation for a bit and is a magical thing to watch. Now, we don't know that Pink Girl will be a good match yet and it would be years before she got started but our goal is that she somehow help bring joy to other special needs kids. It's a great goal for Carter as he learns to lead a more service oriented life.
So, what's up with calling her Pink Girl?
Apparently its a breeder thing. This is my first experience buying an AKC/LCA dog so I am learning a lot. The breeder names their litters by letter and then each pup gets a color. They wear this color ribbon while living with the breeder so she can tell them apart! This pup is Pink Girl from Leos of Serengeti I litter.
You aren't going to call her Pink Girl are you?
NO! But as we are preparing for Monday we don't have a name. She needs a fancy name that she will be officially recognized as. You know on the Dog Show after the Superbowl how they all have very regal sounding names? She needs one of those and since she is I litter it needs to start with either Incredible or Irresistible. Personally, I like Irresistible better.
My thoughts on this: Irresistible Summer Magic or something using Hope or Joy or Love and the Rocky Mountains? I don't know. I need your help.
But even more than her AKC name, we need her call name…what we actually call her. Here are some of our thought and I won't say who thought of what to be fair (cause some of them I don't like)
Kiara (Nala's daughter in Lion King), The only thing that bugs me about this is that pink girl is NOT Nalas daughter but it is more of a continuing a family line thing.
Simba. Boys name though.
Cinnamon. She will get her beautiful brown colors soon.
Baca. Nala did this weird speaking thing every morning that sounded like Chewbaca from Star Wars. I don't know if that is a Leo thing or a Nala thing though so Pink Girl may not do it. It was kind of the highlight of our morning though.
Chewy. Same as above.
Scooby. Someone in this family also wanted to name a male Leo Scooby but Pink Girl is a GIRL.
Bella. But that is Emma's middle name (yes, I know we are weird) and still so Twilight-y.
Out of those there is one I like and could see possibly using but I am not in LOVE with it. What do you think? Like any of those? Or have a better idea. Maybe a more country name that goes with Floyd? The boys are sort of hating anything that sounds like a persons name so those are ruled out.
Seriously. I need you help. Give me your picks for both her AKC name and real name. PLEASE!