We may earn money or products from the companies mentioned or linked to in this post, including Amazon Affiliate links.
This summer was sort of lame in that we didn't get to travel too much due to Carter healing from the surgery he had in May. That is OK. We still had a great summer with tons of family time AND we still were able to go on our annual trip camping at Snow Mountain Ranch.
I love this camping trip. Each year we go with 9-10 families to Snow Mountain Ranch right outside of Winter Park, Colorado. Of course, we stay in a lodge, Indian Peaks to be exact, in a wheelchair accessible room.
What? It's camping! There is no TV for goodness sake. We have to bring our iPad's and stream our home cable apps over their wi-fi just to watch Iron Chef! That's as primitive as I get people.
What's great about camping at Snow Mountain Ranch though is that our friends that do choose to rough it in a tent have that option in the Hopi Campground area, or you can rent a yurt, or a cabin. Really, there are a ton of options for where to lay your head at night so it works out perfectly for a large group of diverse families.
But I love staying at Indian Peaks because right outside our room is this: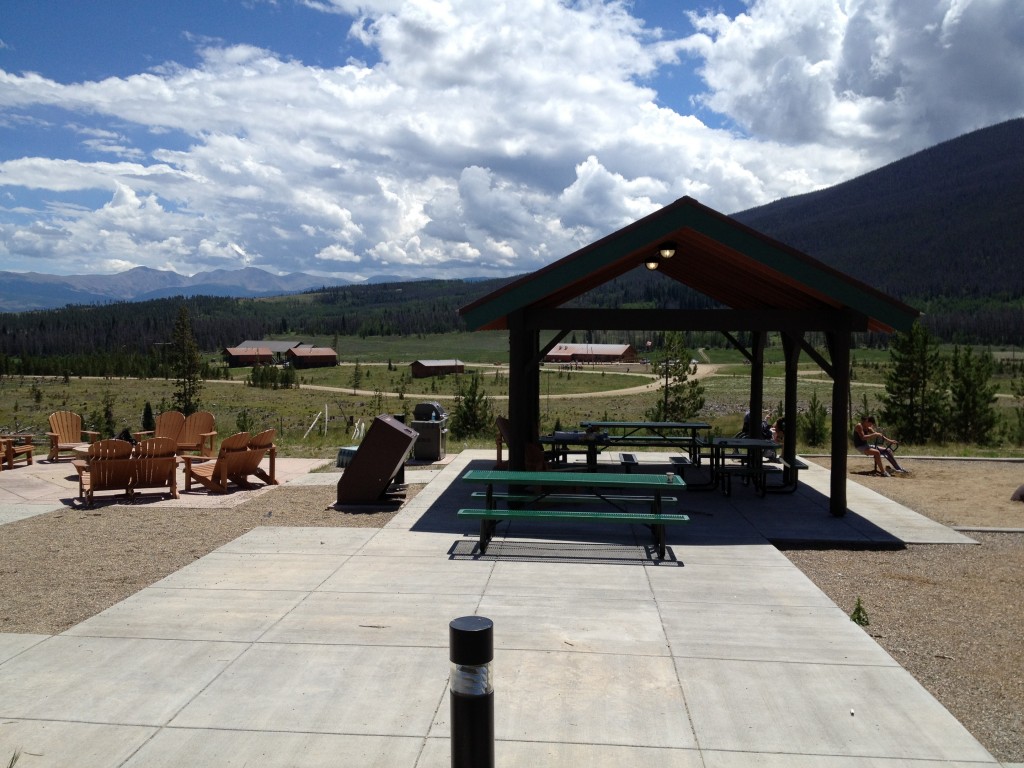 To the right of that is a huge playground for the kids. During the day, all the families split up and enjoy the activities offered at Snow Mountain Ranch. Some go zip-lining, some swim, some do arts and crafts. We like to go hang out at the horse stables and make new friends like Pearl and Babe, drafting horses on a break.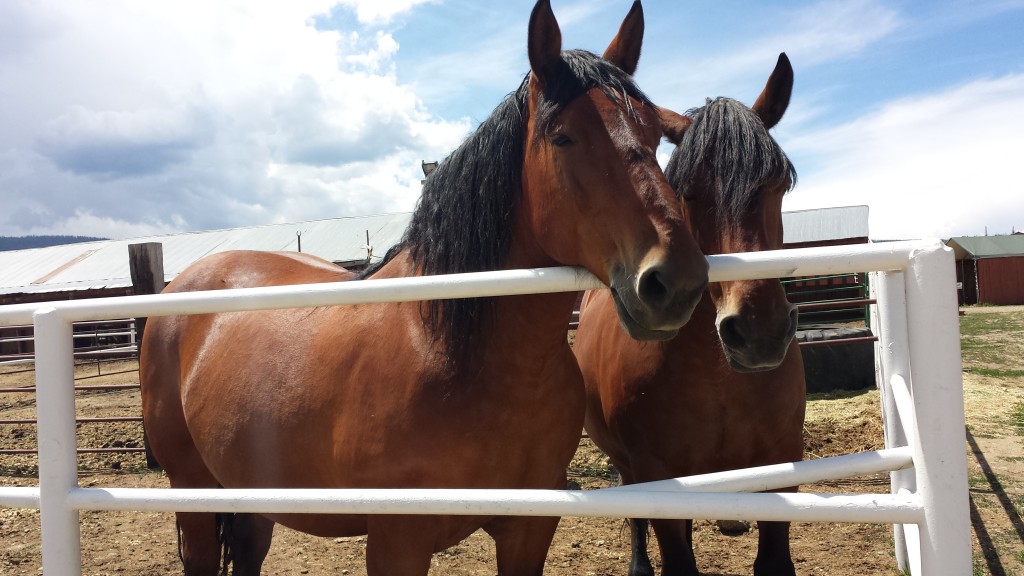 And look for moose in nearby Rocky Mountain National Park. We took off one morning at the spur of the moment and decided to make use of our National Parks Access Pass.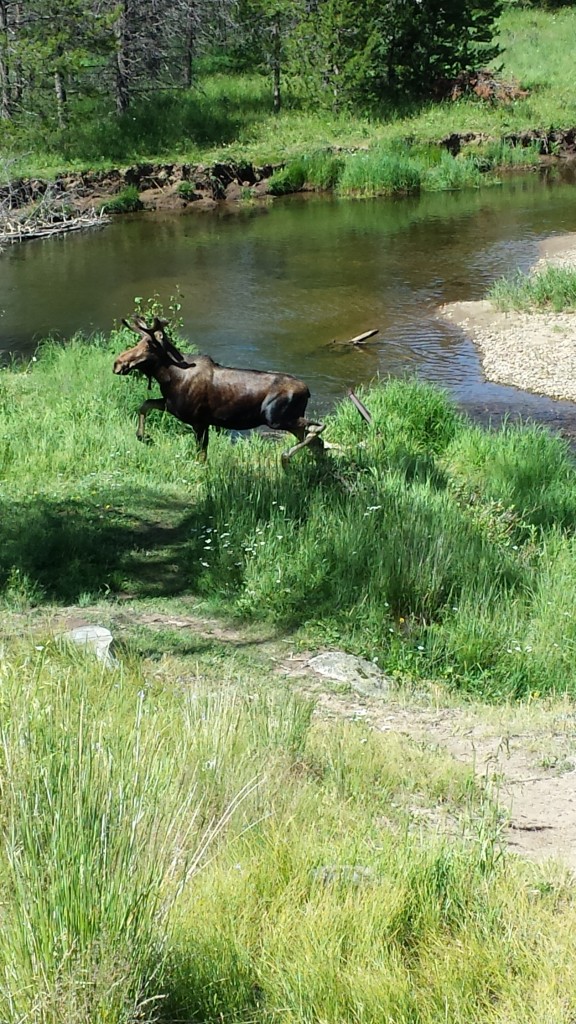 At night we all come back, watch the sunset, cook dinner and enjoy the gigantic fire ring as the kids play.
We even take photo's, cause you know? That is what bloggers do.
A little travel advice if you are going to go camping at Snow Mountain Ranch or any place in the Rockies the first week of August? Pack your patience. The ride up the I-70 is painful. It took us over 3 hours to get from the opening of the Rockies to Idaho Springs. I was so thankful to have a tote bag full of goodies. State Farm had provided me with the Road Trip Emergency Kit for this camping trip and it ended up proving to be the saving grace as we sat, and sat, and sat in the parking lot known as the I-70.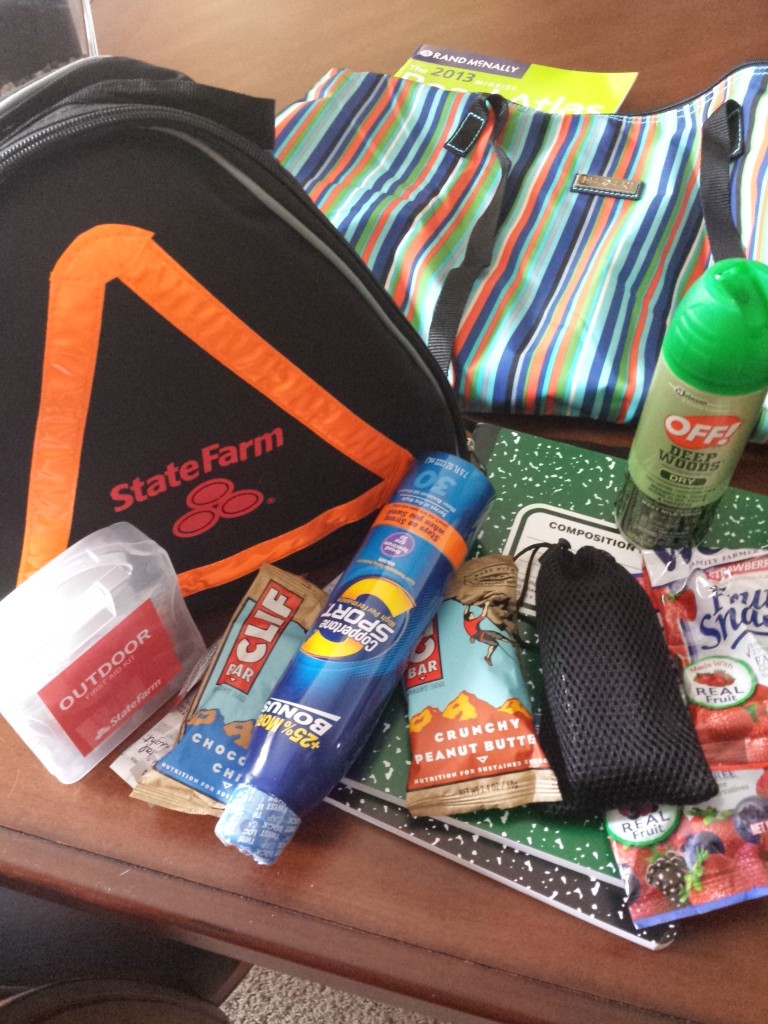 The kit contained all sorts of useful things I would not have thought to pack:
an external battery pack to charge many types of cell phones.
a real map (so great when the GPS on my phone wouldn't pick up where we were)
Fruit snacks <–THIS, this silly thing I never buy turned my cranky family around
Clif Bars- <-OMG, 3 hours stuck in traffic? Seriously saved my hungry guys
Crystal light individual drink mix packs. I was DYING for a Diet Coke. Thankfully I had these to mix in a bottle of water to get me through my 'emergency'. I am weird in that I don't like water plain.
Besides, it's super pretty! But that is besides the point, huh? Emergency kits are important. Even if they just get you through a long, unexpected road trip delay. Do you have one? If not, I put together a post on how to make an emergency road trip kit for you.
I would like to thank State Farm for sponsoring my families road trip through a campaign with Traveling Mom and She Buys Cars. We had a great, safe time and left with another year of fabulous memories.