We may earn money or products from the companies mentioned or linked to in this post, including Amazon Affiliate links.
I was born in raised in Phoenix and in the 30 years I spent there had never come across a desert gem like the Ritz-Carlton Dove Mountain and that is saying something because Arizona has many beautiful resorts to choose from. Set just outside Marana, AZ (just slightly north of Tucson) this luxurious resort preserves the peace and beauty of the desert in the way you would expect from the Ritz-Carlton brand.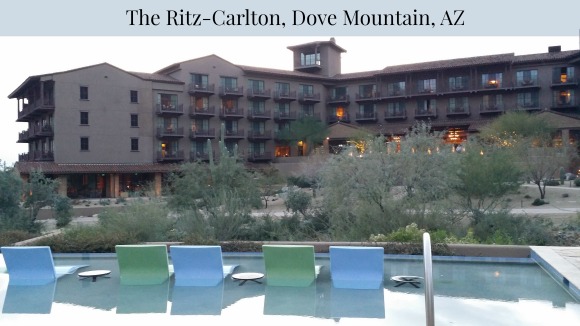 Our drive from downtown Phoenix was an easy 1 1/2 hour drive down the I-10, including stop time in Casa Grande for a rare In-N-Out Burger treat these days (side note: Denver, really, you need to get with the In-N-Out program). You could fly into Sky Harbor in Phoenix or Tucson for a stay here. We flew into Phoenix and spent one night at the Hotel Palomar downtown before driving down the next morning.
We arrived at the Ritz-Carlton Dove Mountain just in time to see the Native American Flautist serenading the sunset perched upon the mountain. This would happen each night of our stay. Anytime I hear a flute playing now I fondly remember that 30 minutes each night to slow down and reflect on the day. The fire pit or pool area gives you the perfect vantage point to both see the flautist, the sunset and feel the music bounce off the surrounding mountain. One of the things I miss in Denver are my beautiful desert pink sunsets. So this time of day was soul restoring for me.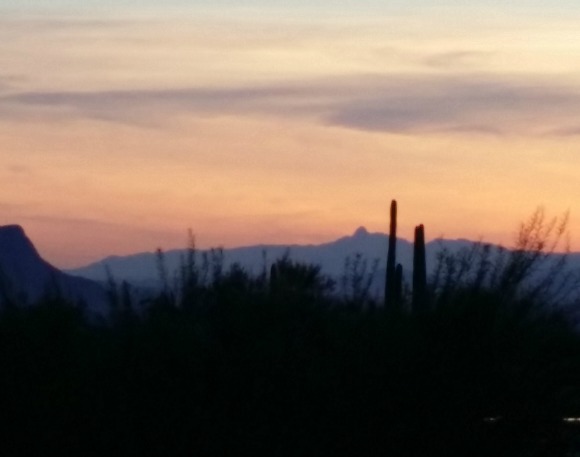 We spent the next two nights frolicking about the orange groves and playing Bocce Ball, having drinks out by the fireplace, relaxing in the jacuzzi, and eating wonderful food. The surrounding mountains are the perfect size for a 1-2 hour hike.
My son had no issues with wheelchair accessibility at all at this resort. The terrain is mainly flat in the resort area, well paved, and elevators are in all the right places. Our wheelchair accessible room was plenty big enough and had a beautiful roll in shower.
Staff here were lovely. Everyone we met was friendly and attentive. Just what you would expect to find at the Ritz.
Things to know before you visit Ritz-Carlton Dove Mountain:
The resort restaurants are great but you are just a short drive down to Tucson for authentic Mexican food galore. We really liked El Charro but ask the valets for their take on Mexican food. They have a lot of great ideas.
3 nights would be my "sweet spot" for a stay here.
Try the Buffalo Tacos and a Margarita at Ignite sitting outside by the fire.
The gym has everything you need but is smallish….get outside and hike! Bring a Camelback!
Want to read more of our travel adventures? Try any of these: