We may earn money or products from the companies mentioned or linked to in this post, including Amazon Affiliate links.
It's been beautiful here. We've been able to open all the windows and air out the house. Which has my mind jumping to spring cleaning much too early. Yesterday I made this super easy essential oil recipe, DIY carpet freshener, sprinkled it on the carpet and let it sit about an hour before vacuuming it up. It took the stale, musty smell that builds up all winter right out of the carpet and the house smells clean and fresh.
What You Need for DIY Carpet Freshener:
16 oz Mason Jar-you want glass if you are going to use any sort of citrus essential oil.
Sprinkle top-these daisy lids pictured below are becoming very easy to find in Target, Walmart, Amazon (affiliate link) or Michael's but if you can't find one you can use aluminum foil with holes poked in it under the screw top.
16 oz Baking soda-you know I buy this in bulk for all the crafts I do right? Use left over to make fragrance stones.
Essential oils-I used 10 drops Young Living Peppermint & 10 drops Grapefruit (this is a favorite combination of mine for cleaning). Really, you can use whatever oils you would like your home to smell like–Lavender, Lemon, Jade Lemon, Orange, Lime, Citrus Fresh and Purification all come to mind. You want 20 drops in a 16 oz jar. Click here for a Young Living Premium Starter Kit coupon code.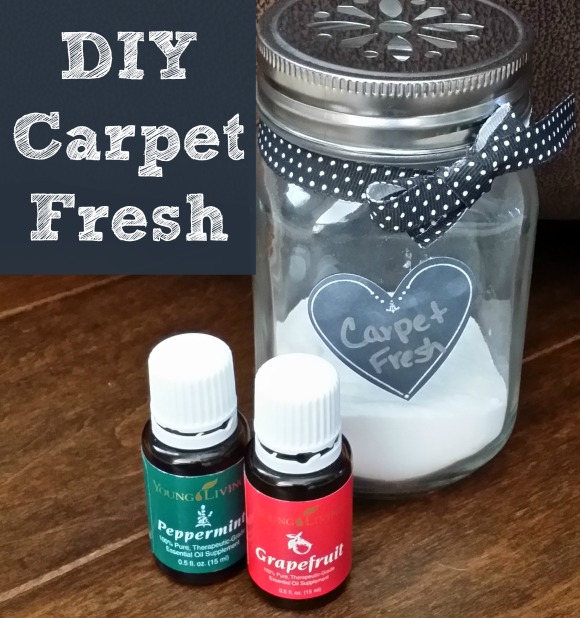 How To Mix Up DIY Carpet Freshener:
Fill the jar with baking soda, add the oils, put on a regular lid that locks it in (not the sprinkle one) and shake it up. Let it sit at least an hour before replacing the regular lid with your sprinkle top. Spread thinly and evenly on carpet. Let it sit about an hour but don't let people walk on it…you don't want this ground in. I did mine as we were leaving for the store and vacuumed when I came home. Vacuum as you normally would. Bonus-it freshens your vacuum as well!
Please test this on a small area of your carpet before using around the whole house. It works great on mine but would hate for you to ruin some specialty color or fiber carpet I don't have and can't test. That's just crafty common sense!