We may earn money or products from the companies mentioned or linked to in this post, including Amazon Affiliate links.
Are you ready to ditch the dryer sheets? All you need is a set of wool dryer balls with essential oils. Wool dryer balls are 100% natural replacement for chemical filled dryer sheets. They work by bouncing around in the dryer, reducing static cling and literally softly "beating" your clothes. The balls shorten drying time by wicking moisture away from your clothes and they can last for years. Adding essential oils gently scents your clothes and adds one more way to get the therapeutic benefit of oils into your life. If you are trying to reduce the chemicals and toxins in your house this is one with a lot of bang for your buck since clothes, sheets and towels touch everyone in your family all day long.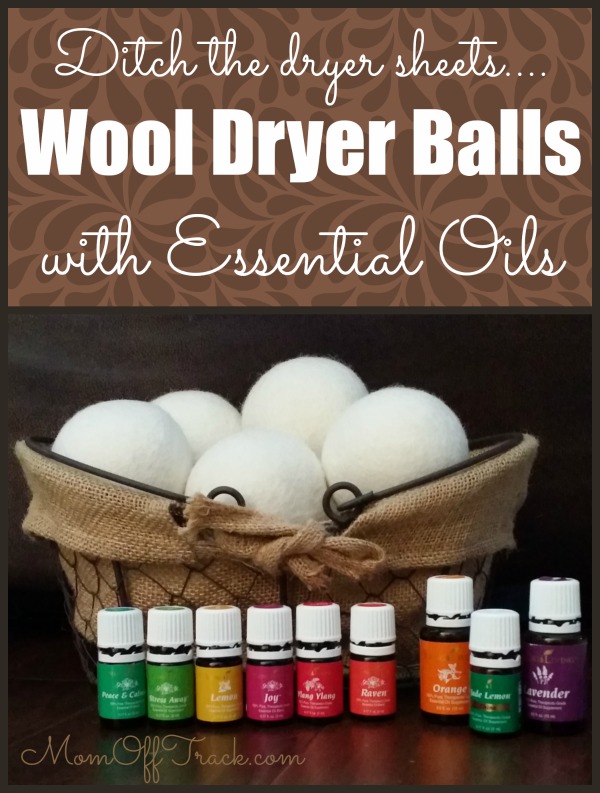 There are two ways to get your wool dryer balls, buy them or make them. Many people even use an old wool sweater around the house to make the balls making this even more cost efficient. I have heard though from people that have made them that it just wasn't worth the time and effort when you can buy them so inexpensively.
Where to Buy Wool Dryer Balls:
Amazon. Here is an affiliate link to the ones I bought.
Etsy. No affiliate, just making your life easier.
How to Make Wool Dryer Balls:
Wool Dryer Balls With Essential Oils
It's easy to use essential oils with wool dryer balls! Once the balls are ready to toss in the dryer you are going to want to scent them. This is where you can get fun and creative. Place 2-3 drops on each ball. This should last through 3 cycles in the dryer. Of course you can use more or less depending on your preference but that is a good guideline to start with.
Possible Combinations for Wool Dryer Balls With Essential Oils:
3 balls of Lavender and 3 balls of Orange.
3 balls of Purification and 2 ball of Melaleuca alternifolia if I had sick kids and I was doing sheets.
3 balls of Orange and 3 balls of Stress Away. Smells like a dreamsicle.
4 balls of Jade Lemon. This is my new to die for scent. LOVE Jade Lemon.
2 balls of Peppermint and 1 ball of Ylang-Ylang for sheets and towels.
I will also be playing with Joy, Raven, Valor, Lemon, Peace and Calming and many others. Leave me a comment if you have a favorite!
Of course I only use Young Living Oils in our home and for all my projects. If you would like to get the Young Living Premium Starter Kit New Member Voucher Code this post will give you all the details.
Looking for more ways to reduce chemical laden products in your home? Try this DIY Carpet Freshener.