We may earn money or products from the companies mentioned or linked to in this post, including Amazon Affiliate links.
Do you Ipsy? No? Well, by now I am sure you have seen at least one of your FaceBook friends post that they just got off the waitlist for Ipsy (I'll tell you that little secret in a minute). So you may be thinking what is Ipsy and why is everyone going nuts for it?
Remember a few months ago when I told you about my obsession with the Glossybox beauty subscription plan? Ipsy is sort of the same thing but on a smaller scale and a much smaller price tag. At $10 (includes shipping) a month you get a cute makeup bag (that is sort of their signature thing) with 4-6 new beauty products, often with just one of them being worth more than the $10 price of the subscription. Basically, Ipsy is the perfect way to treat yourself to something fun and get in on the subscription beauty bag craze at very little cost. I also think it makes a great gift for a college student. And lets not forget all of these tend to be the perfect size for traveling.
At first I was worried that the products in the Ipsy bags would be a bit too "young" for me…like glitter nail polish and the like but I have been pleasantly surprised. I gave the nail polishes to my nieces and the bags are still on the money plus side for me. Here is a look at some of the recent months for me: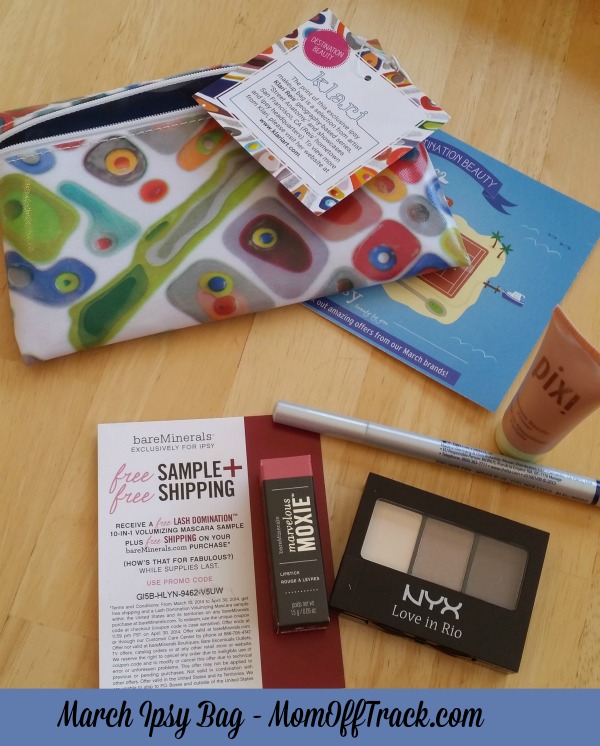 If you want to see a descriptions of each of the products go to My Subscription Addiction (link will take you directly to her Ipsy reviews) I think she is the best blogger talking about subscription boxes on the net right now.
Get Off the Ipsy Waitlist
If you are ready to sign up, here is my Ipsy referral link (it just gets me more samples and such, no money). When you sign up you will be put on a waitlist. Once you are on the waitlist then go to this skip the Ipsy waitlist link and connect your Facebook account to it. Let it post to Facebook and you will get a message that you are off the waitlist. Easy peasy! If that sort of post bugs you, you can always delete it once it posts and revoke Ipsy's access to your page in your Facebook settings under "apps".
Just a reminder: this is not a sponsored post. I don't work with them. The referral link above is available to anyone that has an account. I genuinely love Ipsy and wanted to share about it. I'll be posting more of the subscription boxes I get soon. I have my own subscription addiction problems. 
Want to bookmark this post on Pinterest? Here is a great image: