We may earn money or products from the companies mentioned or linked to in this post, including Amazon Affiliate links.
It's almost the 4th of July and I was looking for a fun way to present a treat on the dessert table that I could feel good about! Enter this Ningxia Red play on the 4th of July Jello Shots. This powerful Wolfberry (or more commonly known as Goji) blend is a staple at our house. What is it?
NingXia Red® combines the extraordinary wolfberry superfruit with pure Orange, Yuzu, Lemon, and Tangerine essential oils, along with blueberry, aronia, cherry, pomegranate, and plum juices to deliver a whole-body nutrient infusion. This powerful formula includes wolfberry, which is touted for its health-supporting benefits, while ongoing research continues to reveal exciting new properties on this ingredient. Enjoy NingXia Red daily to energize, fortify, and revitalize the body and support overall health and wellness, from head to toe. – YoungLiving.com
With all that power and yumminess it just makes sense to make a part of our picnics. Here's how!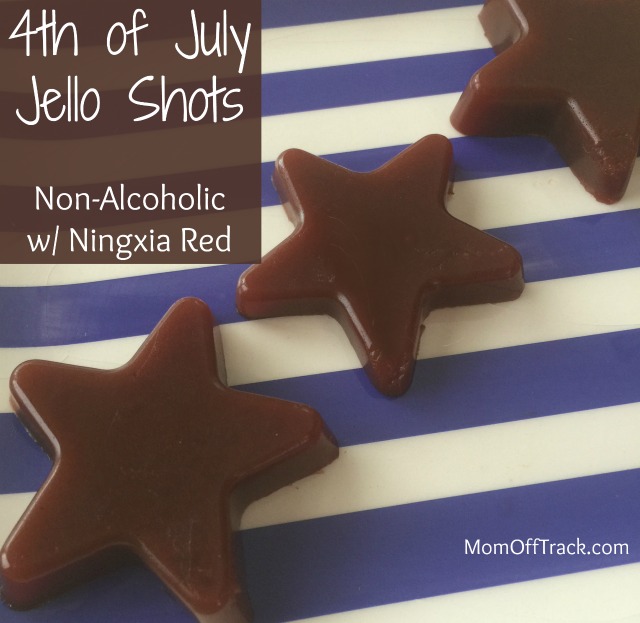 4th of July Jello Shots With Ningxia Red
What You Need:
1/4 cup juice (I used Bai 5 Pomegranate for the red color)
1 and 1/4 small packet of unflavored gelatin
5 drops Orange Essential Oil
1 packet of Ningxia Red (equals 1/4 cup, you can get this through your Young Living Account)
1 tbsp honey
Wilton Star Silicone Mold (Amazon Affiliate Link)
The How To:
Heat juice and gelatin in small sauce pan over low heat until gelatin is dissolved.
Remove from heat and add Orange Essential Oil, Ningxia Red and honey.
Stir well.
Pour into molds
Place into refrigerator to chill for an hour at least.
To remove from mold gently run warm water on the backsides of the mold for about one minute. Gently peel back mold from the sides of the star to help it lift out easier. Pop out of silicone tray carefully to release the star.
Looking for a great salad recipe to try at your BBQ? Try this Summer Beet Salad with Citrus Vinaigrette and make sure to look for more 4th of July Party ideas on the blog.