We may earn money or products from the companies mentioned or linked to in this post, including Amazon Affiliate links.
Sending your kid off to college this Fall? It's a scary and exciting time for all. Shopping online (especially using your Amazon Prime membership) for their college dorm room supplies can be a real life safer both now and once they start school.
Before we get started make sure that you have renewed you Amazon Prime membership. Not only will you get free, 2 day shipping on thousands of items, but you get unlimited Photo Storage (really useful for your student to backup their photos with through an app on their phone), Prime Instant Video (free movies for them to stream in their downtime), Kindle owners lending library and Prime Music. This membership is so useful it needs to be on everyone's college shopping list. HINT: Students get a free 6 month trial and 50% off their Prime membership.
We are going beyond the comforter, sheets and towels in this list. For those things I would suggest Gordmans (click here for 20% off coupon), Target, Bed Bath and Beyond or Costco for towels and bath mats specifically.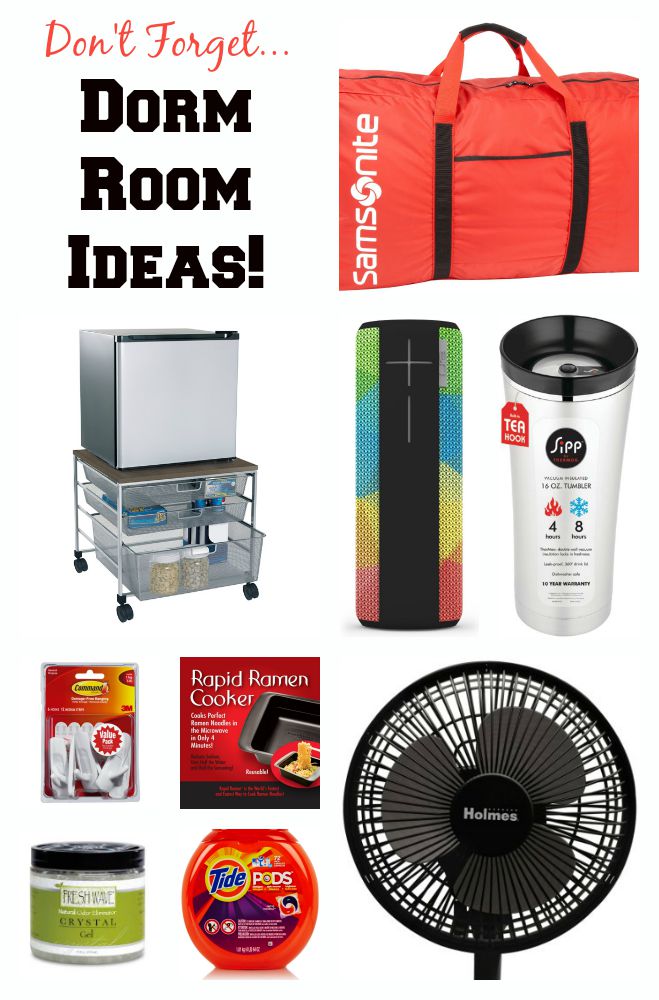 *Disclosure: Almost all links in this post are affiliate links. 
College Dorm Room Must Haves:
The little things that are often overlooked
Command Hooks and Strips-you can hang anything with this line of hooks. The best part is at the end of the school year they easily remove with no damage leaving you without a hefty damage fee from Residence Life. I buy these in all sorts of colors, weights and hooks. The velcro strips work perfectly for hanging pictures and light framed posters.
Bunk Buddy– this is a must have shelf for any kid who plans to loft their bed. It is sturdy, won't fall off and almost every kid in my sons Freshman dorm had one. Perfect place to put their phone, a drink, remote or even a book when they are in bed. These sell out all the time so if its in stock, grab it!
Blue Tooth Speakers-My son really loved the power packed in the super small Sol Republic Punk speakers but I also recommend the UE Boom (my favorite) and Jawbone Mini Jambox (both available at local Verizon stores as well).
Stamps and Stationary-just a few. Anything beyond a letter they can send from the school business center usually.
Fan-the small, clip on, desk type work great for clipping on where needed. Most kids clip them to either a desk or their bed frame. In general dorm rooms tend to be stifling warm in the winter.
Clip on lamp– They need a lamp up in that lofted bed if they are going to study! IKEA has great ones really cheap if you happen to be in one this summer.
Extension cord- so that the fan, light and phone charger can all reach the lofted bed.
Duffle Bags-Fold up bags are easy to store and perfect to throw inside their other luggage when coming home, carrying more one way or the other. The overall linear inches for most checked bags is 62 inches for most airlines. These Samsonite totes or Olympia bags would work well. I, also, found some at Bass Pro Shops for $20 that have held up nicely.
Travel Coffee Mug-especially if you are sending them off to a cold weather school. This Thermos Sipp will stand up to hours of class and is easy to clean in a dorm sink.
Water Bottle-I suggest one with a filter. Most colleges have water bottle filling stations everywhere these days. Get one with a clip to throw on their backpacks.
Blender Bottle-These are great for protein shakes or mixing up flavored water packs.
Backpack-just like every other school year they will need a new backpack. Their textbooks are really heavy and a lot of time they need to carry snacks, water, laptop and charger and even a change of clothes for the gym in it. Invest in a good one.
Power Strips-The 8 foot cord on this is perfect.
Rapid Ramen Cooker-super quick way to make Ramen all in one bowl that turns out perfectly every time.
Laundry Bag-hang with a large Command Hook to keep it off the floor.
Flip Flops-showers. Ew. Enough said. But if you live in a cold weather area you are not going to find them easily in the winter. Grab a few pair. These are anti-microbial.
The Bigger College Dorm Room Stuff:
If possible I would arrange to ship these items directly to the room. Many colleges will allow you to start making deliveries a week or two before school starts.
Refrigerator– I really like the one with the separate freezer. Perfect for a pint of ice cream or a frozen meal or two. Make sure to check the maximum size and rating the dorm will allow. Buy a box of baking soda to help control any odors and a few magnet clips for the front to throw important papers on.
Microwave-Again, check what the dorm rooms allow.
Compact Fridge Cart-This unit to hold the fridge was my favorite find ever. The drawers underneath can hold all the plastic silverware, paper plates, napkins, cups and so on that the need. You can get baskets that hang off the side as well to increase storage space. It was perfect.
Futon or Large Bean Bag-the best hint I can give you here is pre-order this from a place like Wal-Mart, The Container Store, Bed Bath and Beyond or Target that will allow you to pay for it (so it is reserved) but pick it up somewhere near the school. Futons take forever to put together but its worth doing and lofting your kids bed so they have additional space to relax. Amazon has a few covers in college team fabric but its pretty limited. Worth checking if your kiddos school is a big one.
Storage Ottoman Cube-I can't seem to find these online right now but they will be showing up at Targets everywhere soon for around $20. Its a fabric ottoman that is hollow inside for storage and has an outer pocket that is perfect for sliding a laptop or cell phone into when leaving the room. It's not going to keep it safe but it will keep it out of sight. Turn the pocket side to the wall. Doubles as an extra seat in the room.
Coffee maker-we personally love the Keurig system but that means shipping coffee, tea, or hot chocolate to them occasionally (use Prime Pantry). Another option is a single cup coffee maker.
College Dorm Room Cleaning Supplies:
Believe it or not they will clean their college dorm room at some point. Usually when the cold and flu virus' start running rampant. This is the perfect time to start looking around Prime Pantry so you are familiar with drop shipping them groceries and smaller items.
Stick Vacuum– The debate is on with whether or not boys ever need this but they always borrowed one from the girls.
Iron and ironing board-see Vacuum comment. If you buy a board make it the small one.
Dish Soap- Pump style worked double duty for hands.
Clorox or Lysol wipes
Lysol spray–about 4 weeks in my son became the biggest germophobe on the planet and sprayed everything the rest of the year.
Febreeze
Wrinkle Remover Spray
Tide Pods-don't mess with liquid detergent and freshener. This makes it really simple for them.
Gel room fresheners-Freshwave works really well.
What have I forgotten? I am sure quite a bit. Please leave a comment if you have a great idea to add to the list. Don't forget Kleenex for Mom (and Dad) for drop off day. You will surely need it. Especially if you have a long drive home with an empty seat. It will keep you busy to start planning your first college care package.
Now that you have all this great stuff, hop over and learn how to secure your stuff on campus.
Disclosure: This post contains some, not all, affiliate links.