We may earn money or products from the companies mentioned or linked to in this post, including Amazon Affiliate links.
Today I have for you one of the most simple projects on the planet: DIY HAND SOAP. Hand soap that isn't full of chemicals is pretty expensive in the stores. This can be made really inexpensively in a matter of minutes. Your hands will be softer, you will be saving money and you will feel better about what you have around your family!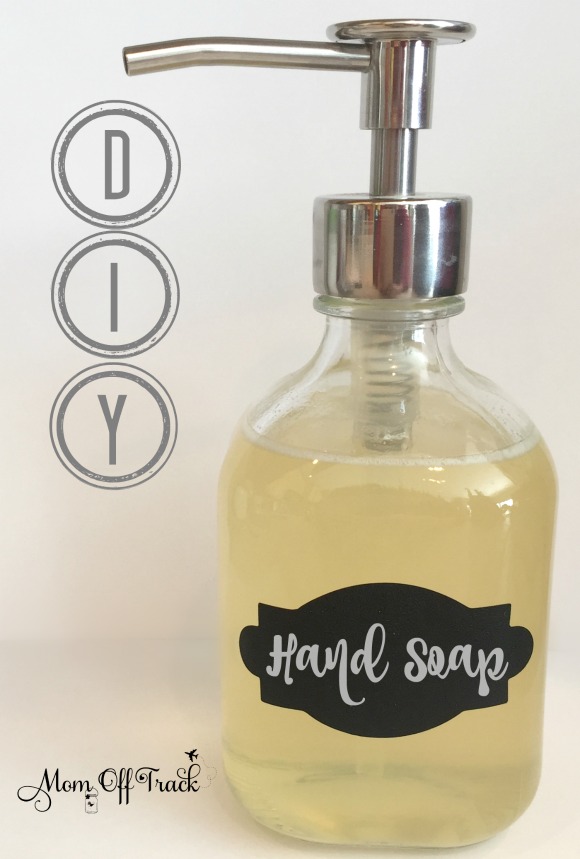 What you need for DIY Hand Soap:
This list does contain affiliate links:
Soap Jar– I love the Mason Jar ones I linked you to. I got the one above at IKEA for less than $5.
Dr. Bronner's Castile Soap– I can often find this on sale at Target for about $10. I use Peppermint in this recipe.
Thieves Essential Oil-click here for information on how to save money on essential oils.
Distilled or boiled water–You just want to boil any little bacteria that might be in your tap water so this lasts longer. Let it cool before using.
DIY Hand Soap Directions:
Add water to your soap container filling it about 1/3 full. You must add the water first or it gets foamy.
Fill the soap jar almost to the top with your castile soap.
Add 12 drops of Thieves essential oil. Adjust depending on your jar size and preference.
Screw on top and use.
There are so many combinations you can make with this. You could substitute the castile for unscented and add any Young Living oil you like. Try almond castile with lemon essential oil. Or lemon castile with peppermint essential oil. You are only bound by your imagination now that you know how to make the base!
*I do find that I need to rinse my hands a little better with this than I do a commercial soap. But my hands are so much softer from using this!