We may earn money or products from the companies mentioned or linked to in this post, including Amazon Affiliate links.
Last November, Connor and I took off for a fabulous 3 day weekend for a Dallas Fort Worth itinerary. I wanted to wait and tell y'all about it because I had such a wonderful time that I didn't want this story to get lost in the holiday noise. If you have yet to visit the Dallas/Fort Worth area I hope that as you are planning your 2013 adventures, a trip to this area of TX lands on your map after this post. Fortunately a lot of friends attended this same trip with us, so for some of the details I will link you over to their posts.
Our trip started off at the Omni in Dallas for the Family Travel Conference. I was really impressed with all the cool little features in the Omni rooms. During the conference, Connor snuck off down the street to the Old Red Museum. He loved it. We visited the Dallas Zoo one night for dinner. The food was lovely and we got some cool closeups of the elephants and the penguins. But the real star of the that trip was actually the Galleria Mall where Connor had a ball playing like a little kid.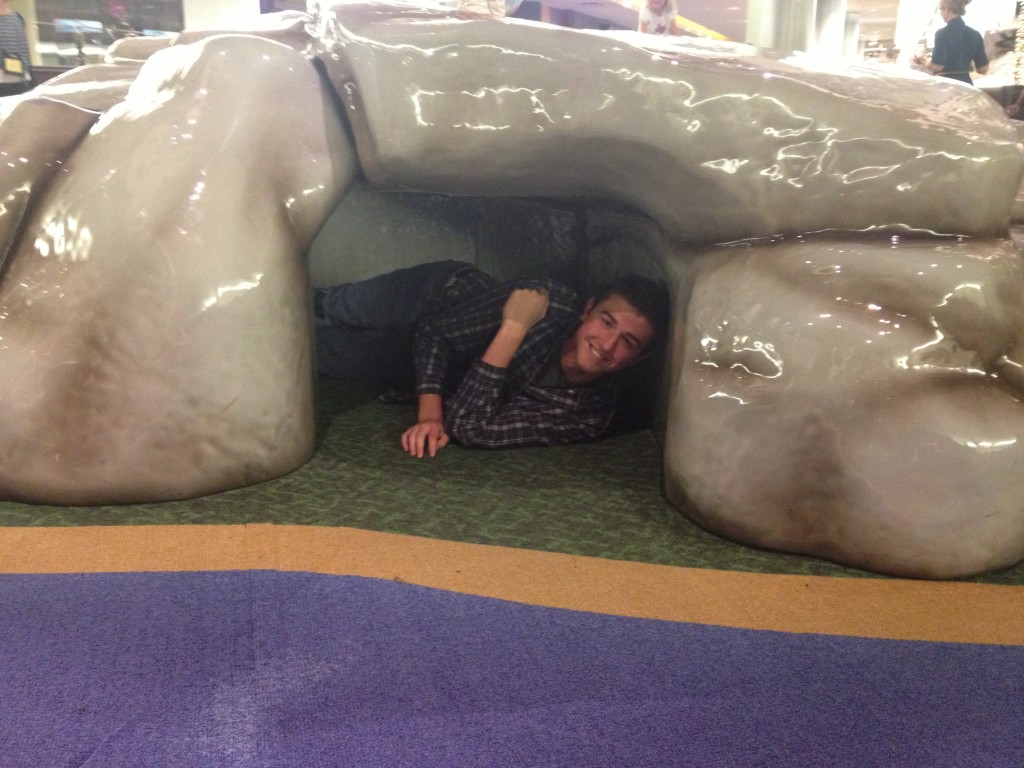 While we loved Dallas, Fort Worth is really the area that stole our heart. Really, we have met with plenty of CVB's (Convention and Visitors Bureaus) in our time, but there was just something so real and heartwarming about how much Jessica and McKenzie loved Fort Worth. It was infectious.  Maybe I loved them just a tiny bit more because McKenzie was a Xavier grad (although much younger than me). Once a Gator, always a Gator. She was LOVELY though and was so sweet to take Connor on his first college tour of TCU. Which, oh my goodness, is a beautiful campus. Personally, I would be thrilled to see him at TCU, but he doesn't quite see himself as a Horned Frog and still has his heart set on CSU in Fort Collins here.
THIS is what we did in 24 hours in Fort Worth. I am not going to lie I was EXHAUSTED coming home. My feet were killing me because my crap-tastic dressy boots that I had from Vegas (note: now at the Goodwill) gave me such bad blisters at the Zoo. But despite those two things, I would do this all in a heartbeat again-I would just give myself much more time to enjoy Fort Worth. I posted the picture on Facebook yesterday and was surprised how many people really could guess the locations. It's obviously a fan favorite of many people 🙂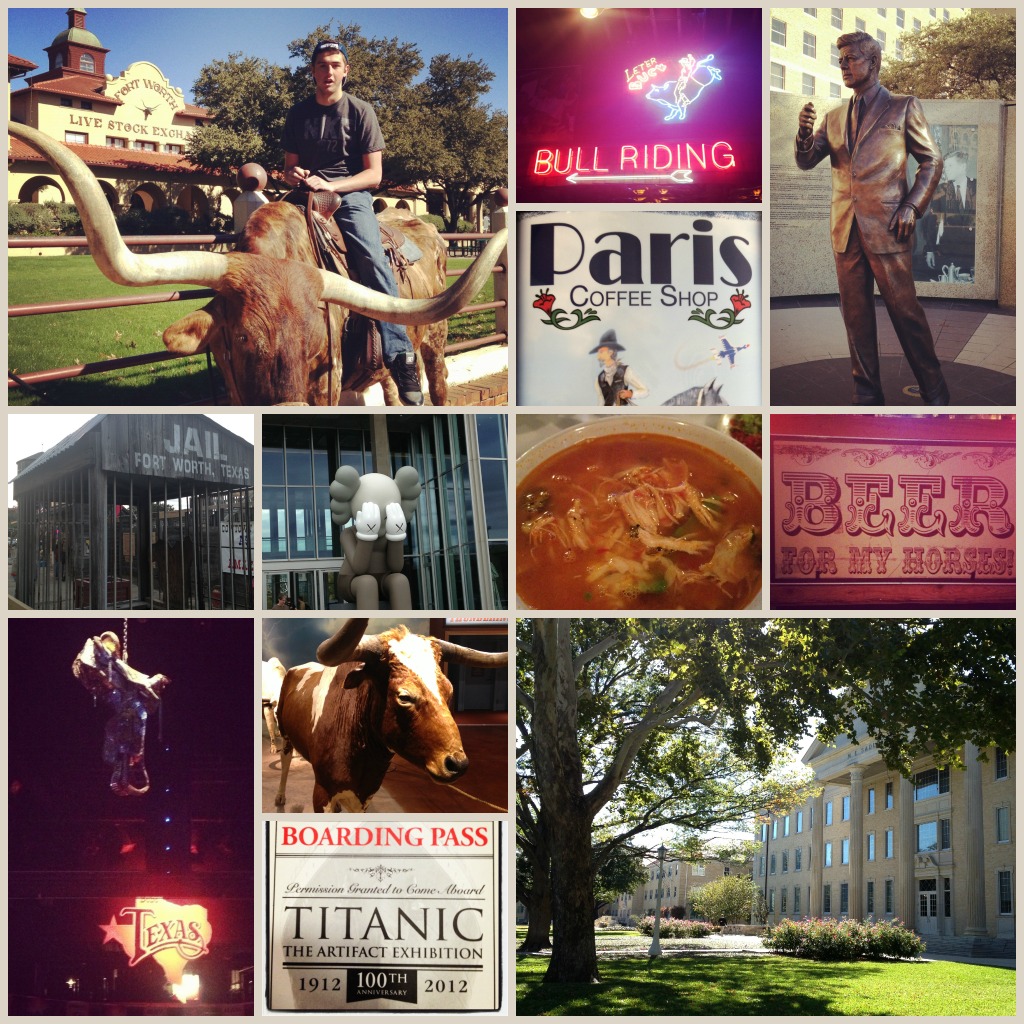 There are two places you MUST eat in the Fort Worth area: Joe T. Garcia's and Paris Coffee Shop. It's no secret that I have an incredible disdain for what people in Colorado try to pass off as "mexican" food. I grew up in AZ. Quite literally in a Mexican food restaurant. I know my Mexican food. People in Colorado think if you throw green chili on top of anything you can call it Mexican. BLECH. Joe T's was a blissful blast from the past as I had the best tortilla soup I have had in a LOOOONG time. Their outdoor patio was gorgeous and I may move to Fort Worth just so I can have dinners there. But on the flip side, Paris Coffee Shop would get my breakfast business. Probably because I quite literally have a secret crush on Mike, the owner, or his pies, which they make fresh every day. Paris Coffee Shop is one of those places that has been around in the same family forever. They survive because they just do it right! Believe me, stop in for some homemade pie and a hug from Mike and you will feel just like you want to be frozen in the special time and place that this coffee shop is.
Actually-there are three places you MUST eat in TX but Riscky's brings you over to The Stockyards and that, my friends, is a whole other ball of wax. The Stockyards is an amazingly fun place to hangout. You have the old fashioned honky tonk type country dives to the some of the best BBQ I have had-besides my husbands. Nobody beats his, sorry. But really, the Stockyards deserves its own post (which I will put over on TravelingMom.com and link here) but suffice it to say Connor has yet to take off his Billy Bob's hat and has some pretty vivid memories of riding a mechanical bull (I'll leave that to your imagination).
Fort Worth isn't all cowboys, bulls and horses though. I was pretty surprised to find a pretty cool Cultural District that you could walk to several great museums including the Kimball Art Museum, The National Cowgirl Museum of Hall and Fame (which we surprisingly had a great time at) and the traveling Titanic Exhibit at the Fort Worth Museum of Science and History was so powerful that I still keep my "boarding pass" in my wallet. I plan on writing another separate piece just about that.
I always appreciate a place that every member of the family can enjoy and when you have teenage boys, those places are harder and harder to find. Fort Worth made that easy. We both had a great time and have wonderful memories. We both want to go back with Bob and Carter and I am anxious to see what the wheelchair accessibility will be like for Carter. From what I can tell, he won't have many access issues there and I am looking forward to a slower pace, longer family trip there soon.